Atlanta elementary school students inspired by adults with disabilities
Successful adults with disabilities from throughout the metro-Atlanta area inspired children at Gwinnett County's Nesbit Elementary School on Oct. 12 to dare to dream for their futures as part of a new disability mentoring day and career expo pilot program.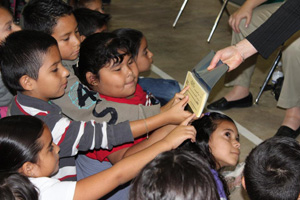 "I Have a Dream: Creating Your Life Portfolio" is a program created by the Southeast ADA Center–a project of the Burton Blatt Institute at Syracuse University–to celebrate October's National Disability Employment Awareness Month. The Southeast ADA Center answers questions and provides training and materials about the Americans with Disabilities Act (ADA) throughout the southeastern U.S. The center designed the program to break down barriers and introduce students—with and without disabilities—to individuals with disabilities from the community who have achieved their dreams personally and professionally. The Southeast ADA Center will also work with other schools throughout Georgia and the southeast to replicate the program.
The "I Have a Dream: Creating Your Life Portfolio" mentoring day and career expo is the first event of a three-part pilot program at Nesbit Elementary, which also includes a Parent Engagement Night in February 2012 and Exceptional Children's Week in May 2012.
"Dispelling myths and starting a conversation at an early age about disability is one of the first steps in fostering understanding and getting young children to be aware of the need for the Americans with Disabilities Act and why it is important as they grow to adulthood," says Pamela Williamson, project director of the Southeast ADA Center. "This is why our assistant project director, L. Elaine Sutton Mbionwu, initiated the program and partnerships with Nesbit Elementary School, Gwinnett County Public Schools and local community organizations to host this event and inspire all children that anything is possible for their futures."
Students began the day with a kick-off assembly that included an inspirational video, an uplifting performance of "I Believe I Can Fly" by jazz artist, event committee member and Abel2 founder Myrna Clayton, as well as inspiring words from Nesbit Elementary School Principal Clayborn Knight, Nesbit Elementary School Parent Teacher Association President Bonita Collins, Mbionwu and Gwinnett County Executive Director of Special Education Paula Everett-Truppi, who shared her personal experiences as a student with a learning disability.
Students met throughout the day in small group mentoring sessions with 12 successful adults with disabilities from the community. Mentors represented a cross section of different disabilities and cultures, answered questions and talked with the children about having a disability, what their daily lives are like and their personal and professional successes. The mentors' message: work hard, stay focused, dream big and know that anything is possible. The children used this time to ask candid questions of people with disabilities in a safe and encouraging environment, a powerful opportunity to dispel myths and break down barriers.
Students asked Crystal Beelner, an attorney and disability rights advocate who is a little person, how old she was and what shoe size she wore. Beelner answered the questions with honesty and humor. "I bet everybody here wears a bigger shoe than I do. I wear a kid's size two. It's very hard for somebody like me who is a lawyer to find lawyer kind of shoes for kids," she says. "Even though you're not supposed to ask a lady how old she is, that's okay. I'm 35." When one of the children said she looked like she was 21, Beelner replied, "You just made my day."
Nancy Duncan, executive director of Disability Resource Group, who is blind, gave a hands-on presentation by bringing items she uses every day, such as a special device she created to help her write in a straight line, her braille spice jars, checkbook and even the braille Uno cards she uses to play games with her grandchildren. "To me, one of the most powerful questions today was 'Did people bully you?'" says Duncan. "I thought, that's another wonderful thing about all of us being here that we helped to maybe reduce some of the bullying against people who are different."
"It's kind of a taboo to ask someone with a disability about their disability. So being told by that person in a casual environment what their life has been like, what they do, and how they cope is really helpful to people who aren't familiar with it. In that sense, it was a very important thing for these children to experience," says Wes Lawson, an assistant who works with mentor Guillermo Cesario, who is blind.
Following the mentoring sessions, students created art projects, decorating stars with their names, grades and the dreams they have for their futures. As they etched their hopes and dreams on the stars to be displayed in a schoolwide art project, students shared what the day meant to them.
"Just because you are different than somebody else, it doesn't mean that you don't have as much confidence as somebody else or that you don't have that much strength," says Ayoa, a fifth-grader. "We all have different dreams; we all don't have to have the same dreams. If someone says to you, 'you're too short' or something, you should say 'I don't care' because we're not all going to be the same. We're not all the same people."
"I learned that people with disabilities are the same as everybody because they can play with other people, too," says Daija, a first-grader.
"Don't ever give up. I learned that (people with disabilities) never gave up on their dreams and they did the hardest they can," says Julian, a fourth-grader.
"All you have to do is focus and your dream can come true," says Asad, a fourth-grader
"Never give up and never say 'I can't,'" says Xochiote, a fifth-grader.
Principal Knight was joined by three students (one with a disability and two without a disability) in a "principal for a day" job-shadowing opportunity where the children learned what it takes to be an elementary school principal and all that goes in to balancing the needs of students, parents, families and staff.
"I think today was probably one of the most powerful things we've done in the three years that I've been here at the school," says Knight. "What we began to do today is we began to increase that awareness, to heighten that sensitivity … that we're all abled. We're just differently abled. Some of us are able to walk. Some of us are able to move in a wheelchair. Some of us are able to read with our eyes. Some of us are able to read with our fingers."
"We gave [students] that message that anything is possible and that their future is limitless," he added.
In addition to the Southeast ADA Center, Nesbit Elementary School and the Nesbit PTA, additional local event partners included the Disability Resource Group and ABEL2. Several adults with disabilities from Gwinnett County and throughout the Atlanta-metro area volunteered their time to mentor the students. Atlanta businesses, including UPS, provided volunteers to take part in this community initiative.