Award-winning military photojournalist Stacy Pearsall '04 to visit campus Nov. 10-11 as part of SU's Veterans Day events
Stacy Pearsall '04, a graduate of the Military Photojournalism Program in Syracuse University's S.I. Newhouse School of Public Communications, will give a public lecture on Thursday, Nov. 10, at 7 p.m. in Room 101, Newhouse 1. Her talk, "Worth a Thousand Words," is free and open to the public. In addition, an exhibit featuring her photographs will be on display in the Newhouse 1 lobby Nov. 11 through Dec. 30.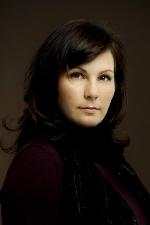 Pearsall will be on campus as part of SU's Veterans Day recognition ceremony, which will be held Friday, Nov. 11, at 11 a.m. in Hendricks Chapel. Sean O'Keefe G'78, former NASA administrator and CEO of EADS North America, will be the keynote speaker. Pearsall will serve as emcee. 
Pearsall, 31, is currently an international freelance photographer and owner of the Charleston Center for Photography. She started working as an Air Force photographer at age 17. She is the only woman to have been named Military Photographer of the Year by the National Press Photographers Association (NPPA). She was a guest on the Oprah Winfrey Show in February 2009, and has been featured in Popular Photography magazine, the Los Angeles Times and the Harvard Business Review. 
Her work has appeared in Time magazine, The New York Times, CNN, BBC, USA Today, Soldier of Fortune, Sports Illustrated and Bahrain Times. Her photographs were featured in the Oscar-nominated PBS production "Operation Homecoming" and in GQ magazine's "This is Our War." Her portrayal of combat experiences in Iraq, "Inside an Ambush," was published in News Photographer, the NPPA's magazine. 
Her project, Birth Control Glasses, was featured at LOOK3 Festival of the Photograph, and a selection of her photographs was included in the Halsey Institute of Contemporary Art exhibition "War on Terror: Inside/Out." Her portrait collection, "The Veterans Portrait Project: South Carolina Edition," is on permanent exhibition at the Ralph H. Johnson VA Medical Center and was featured during the 2010 Piccolo Spoleto Arts Festival. 
Her book of combat photographs and accompanying text is due out next fall. In addition, she co-wrote a song, "God Challenged Me," with country music legends Radney Foster and Darden Smith as part of the "Faces of Freedom" album. It's currently available on iTunes, with proceeds going to support veterans' charities. 
During three tours in Iraq, Pearsall earned the Bronze Star Medal and Commendation with Valor for heroic actions under fire. She was the PBS Air Force Veteran of the Year and was also presented with the Trojan Labor American Hero Award. She is now combat disabled and retired from the military. She is involved in disabled veteran outreach and recovery care coordination. 
Pearsall is a multi-medaled athlete, having competed in the U.S. Paralympic -sponsored Wounded Warrior Games in 2010 and 2011. She was featured on ESPN's "Versus."  
For more information about her visit, contact Nancy Austin at (315) 443-4082 or njaustin@syr.edu.