Campus & Community
Women scientists to discuss 'State of the Earth' in Oct. 26 University Lecture
Four eminent women scientists will discuss how individuals can work to reconcile the needs of people and the planet in the 21st century in the next University Lectures presentation on Wednesday, Oct. 26, at 7:30 p.m. in Syracuse University's Hendricks Chapel.
Moira Gunn, host of National Public Radio's "Tech Nation," will facilitate an interview-style conversation on "The State of the Earth" with Carol Finn, research geophysicist at the U. S. Geological Survey and president-elect of the American Geophysical Union; Pamela Matson, an interdisciplinary earth scientist; and College of Arts and Sciences alumna Elsa Reichmanis '72, G'75, professor in the School of Chemical and Biomolecular Engineering at the Georgia Institute of Technology.
The event is free and open to the public; reduced-rate parking is available in the Irving Garage. CART and sign language interpretation will be available at this lecture.
This lecture is aligned with "The Inclusive Connective Corridor: Social Networks and The ADVANCEment of Female STEM Faculty" (SU ADVANCE), SU's National Science Foundation-sponsored project focused on advancing women faculty in the science, technology, engineering and mathematics (STEM) disciplines and building supportive and strong networks and collaborations.
The lecture is sponsored in collaboration with the School of Information Studies (iSchool), SU Humanities Center, Syracuse Center of Excellence in Environmental and Energy Systems (SyracuseCoE), The College of Arts and Sciences and the L.C. Smith College of Engineering and Computer Science (LCS).
Finn will speak to approximately 900 middle-and high-school students from Central New York at Hendricks Chapel on Thursday, Oct. 28.

Gunn stands squarely at the nexus of technology, science and society. Through her public radio program, "Tech Nation," she has interviewed more than 3,000 people—from CEOs to scientists, from venture capitalists to politicians, from teachers to technophobes. In her words, everyone plays a role—everyone is a piece of the puzzle. Gunn also reached deeply into the world of biotech, interviewing the people who decode our DNA, seek cures for cancer and hope to solve the energy crisis along the way. Her book, "Welcome to BioTech Nation: My Unexpected Odyssey into the Land of Small Molecules, Lean Genes and Big Ideas" (AMACOM, 2007) was named one of the Best Science Books of 2007 by the Library Journal. A former NASA scientist and engineer, Gunn was the first woman to earn a Ph.D. in mechanical engineering from Purdue University. She has had a long career in software and systems development, and holds a software patent in nutrition research. Gunn is a member of the faculty of the School of Business and Professional Studies at the University of San Francisco, where she is the managing director of biotechnology programs.

Finn is a research geophysicist at the U. S. Geological Survey and president-elect of the American Geophysical Union. Her research interests are quite broad, but currently focus on the application of magnetic and gravity data worldwide—along with other geophysical techniques—to identify the subsurface distribution of hydrothermal alteration and causative sub-volcanic intrusions as they relate to both landslide hazard assessment and systematics of hydrothermal systems; geophysical and geochemical properties of Precambrian lithotectonic blocks for input into plate reconstructions and related global mineral resource assessment scenarios; sub-ice volcanoes in Antarctica to provide boundary conditions for ice sheet dynamic models and improved understanding of large alkaline magmatic provinces; and crystalline basement in Afghanistan to aid in resource and hazards assessments critical to the reconstruction effort. Finn has published extensively in scientific journals and has appeared on the Discovery and History channels.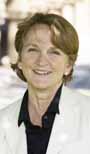 Matson is an interdisciplinary earth scientist who works to reconcile the needs of people and the planet in the 21st century. Her research addresses a range of environment and sustainability issues, including sustainability of agricultural systems; vulnerability of particular people and places to climate change; the consequences of tropical deforestation on atmosphere, climate and water systems; and the environmental consequences of global change in the nitrogen and carbon cycles. With multidisciplinary teams of researchers, managers and decision makers, she has worked to develop agricultural approaches that reduce environmental impacts while maintaining livelihoods and human well being. A MacArthur Fellow and a fellow of the National Academy of Sciences, as well as the American Academy of Arts and Science, she is the founding co-chair of the National Academies Roundtable on Science and Technology for Sustainability. She is the dean of the School of Earth Sciences at Stanford University and a senior fellow at the Woods Institute for Environment and co-leads the Initiative on Environment and Sustainability.

Reichmanis, an alumna of SU's College of Arts and Sciences, recently joined the faculty of the School of Chemical and Biomolecular Engineering of the Georgia Institute of Technology. Prior to joining Georgia Tech, she was Bell Labs Fellow and director of the Materials Research Department at Bell Labs, Alcatel-Lucent. Her research interests include the chemistry, properties and application of materials technologies for photonic and electronic applications, with particular focus on polymeric and nanostructured materials for advanced technologies. She has had impact on the field of microlithography, which is central to the manufacture of electronic devices. Reichmanis was elected to the National Academy of Engineering in 1995. She has been active in the American Chemical Society throughout her career and served as the society's president in 2003. She was presented with the 1993 Society of Women Engineers Achievement Award and in 1995, was named Bell Laboratories Fellow. She received her bachelor's and doctoral degrees in chemistry from SU. A recipient of numerous honors and awards, she received the Arents Award, SU's highest alumni honor, in 2001.
The Office of University Lectures welcomes suggestions for future speakers. To recommend a speaker, or to receive additional information about the University Lectures series, contact Esther Gray in the Office of Academic Affairs at 443-2941 or eegray@syr.edu. More information can be found at http://lectures.syr.edu.
The last scheduled guest during the fall 2011 semester is journalist and author Bob Herbert (Nov. 15). During the spring 2012 semester, guests will include author Jonathan Franzen, in conversation with writer and professor George Saunders (March 6); novelist Zadie Smith (March 20); and environmentalist and author Terry Tempest Williams (March 29).