Go guerrilla and spend marketing dollars smarter
This fall, the WISE (Women Igniting the Spirit of Entrepreneurship) Women's Business Center, an entrepreneurship product of the Whitman School of Management at Syracuse University, unveils a modern marketing workshop for business leaders and entrepreneurs. WISE High Altitude Marketing (WHAM) will be held on Wednesday, Oct. 19, from 8 a.m.-noon at the Crowne Plaza Hotel, Syracuse. The event allows business owners to learn about contemporary marketing tools from local experts.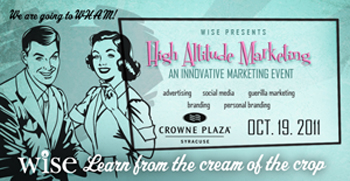 WHAM is a roundtable-style session, which allows participants to ask questions and learn interactively about establishing their own brand, in addition to how to use new marketing techniques to grow their business. Presented as a fundraiser for WISE, the event is geared toward men and women in the business community.
"It has become the norm for the average individual to be assailed by hundreds of marketing messages every day. Current business owners have had to cut through the clutter to be heard, or even noticed," says Joanne Lenweaver, WISE Center director. "WHAM covers innovative marketing techniques for entrepreneurs to achieve just that, while also building their personal brand. Our panel of experts has successfully used creative marketing and networking to become legendary brands in CNY and beyond."
Roundtable experts will speak about the evolution of marketing, from more traditional means to new vehicles such as guerrilla marketing, social media/networking, corporate branding, advertising/PR and personal branding. They will share their experiences with these new tools, and explain the pivotal role of marketing in their respective businesses.
WHAM speakers include, among many more:
John Stage, founder/owner, Dinosaur Bar-B-Que;
Leslie English, president/managing partner, Dale Carnegie Training;
John MacDougall, owner/president/CEO, Nice N Easy Grocery Shoppes; and 
Kathy Hokunson, vice president of sales and marketing, Site-Seeker Inc.
WHAM requires a participation fee of $99, which covers registration materials and a continental breakfast on site. All proceeds will be donated to the WISE Women's Business Center, an initiative to help entrepreneurs from all genders and backgrounds grow their business. To purchase tickets, visit http://wiseconference.com or call (315) 443-3550.