Arts & Culture
SU students participate in West African Dance Residency with master teacher
On Oct. 4, a select group of SU students who are either members of a multicultural student dance organization, or just dance lovers at heart, began a six-week artist-in-residence program learning traditional West African dance from master teacher Biboti Ouikahilo. Through Nov. 8, participants can be found dancing to the beat of live Africans drums on Tuesday evenings, between 9-11 p.m., in Archbold Gymnasium's first-floor exercise room.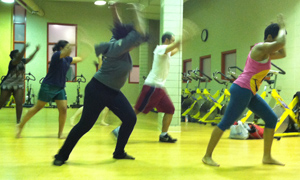 The residency will culminate with the students performing a piece they learned in the master classes during International Education Week's Music Festival, "Music Beyond Borders." The festival will be held on Nov. 16 from 6-8 p.m. at Hendricks Chapel, followed by a reception in the Noble Room.
"This unique opportunity for students to study with master teacher Biboti Ouikahilo drives domestic students into the international arena, where the vision of global becomes inclusive of everyone," says Elane Granger, associate director of student services at the Slutzker Center for International Services.
"Experiences like this bring diversity to the campus," says Charity Ntansah, sophomore public health and pre-med major and participant in the residency. "It's unforgettable. Opportunities like this open our eyes to the cultures outside our bubble at the University."
Ouikahilo is an internationally acclaimed, professional African dancer, drummer and choreographer who has more than 30 years of global performing and teaching experience. He was born in the Sinfra Progouri West region of the Ivory Coast, West Africa, and spent 17 years with the National Dance Company of the Ivory Coast. In 1997, Biboti came to the United States to co-create Africa Azolou, a celebratory show of Africa, Brazil and the United States, and then settled in New York City for six years after the show toured. In 2003, Biboti moved to Syracuse, where he currently shares his artistic talents with the Central New York community through workshops, master classes, community classes, performances and lecture/demonstrations.
"Since I started taking the classes, I feel I have a higher appreciation for African culture and a lot of gratitude," says Mari Rohena Cruz, a sophomore enrolled in The College of Arts and Sciences. "This is a big opportunity, and I feel lucky for being part of it. As a society, we need to expand our horizons and level of tolerance, and this is a fun, basic, meaningful way to do it!"
"I feel like we are getting the real thing because Biboti is directly from there [Africa]," says Ntansah. "He not only teaches us the dance steps, but he shares the culture and reasoning behind the steps. It makes the dancing more meaningful because we aren't just dancing for show. We're dancing to express our joy, like how the African villagers would dance."
The West African Dance residency is co-sponsored by the Pulse Performing Arts Series, the Slutzker Center for International Services (SCIS) and the Office of Student Activities. It is one dimension of a larger multi-disciplinary, cross-cultural collaboration between the SU campus and Syracuse community that builds on the tradition of SCIS's annual International Music Festival.
Historically, during International Education Week, which occurs this year from Nov. 12- 16, SCIS hosts a festival that celebrates multicultural diversity in the art forms of music, dance and poetry. New to this year's festival, "Music Beyond Borders," is the inclusion of artists-in-residence from the local, professional arts community, along with an academic component to illustrate the intercultural connectedness of music that derives historically from shared traditions and experiences, led by Carol Babiracki, associate professor of ethnomusicology in the Department of Art and Music Histories.
"It is a privilege to work with professor Babiracki," says Granger. "Whether it's passionately translating a poem in Urdu recited by a student from Pakistan, or pulling together fusions, or working with an African-American student on his rap performance, Carol's creativity and expertise are instrumental in fusing academic knowledge with the wide variety of the student and community talent. She is key to making this festival spectacularly unique and a must-experience event."
For more information on International Education Week and this year's festival, "Music Beyond Borders," contact Granger at elcarras@syr.edu.