WERW presents Class Actress, Guards, Mouth's Cradle for first fall concert
WERW, Syracuse University's student-run, free-format Internet radio station, is hosting its first fall concert in the Schine Underground on Thursday, Oct. 13, at 7:30 p.m. The concert will feature Brooklyn pop‐electro artist Class Actress, lo-fi garage rock band Guards and local hip-hop act Mouth's Cradle.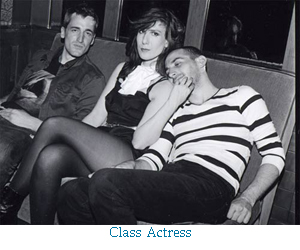 This is WERW's first concert as a recognized student organization. Last fall, WERW staff members brought singer/songwriter Sharon Van Etten for a free show, and then teamed up with WAER to bring Eytan & the Embassy to the Westcott Theatre in the spring.
Class Actress is releasing its debut full-length album, "Rapprocher," Oct. 18 on Carpark Records. The group is then touring with British electronic act Metronomy. Guards has just finished a tour with up‐and‐coming indie duo Cults. Their self-titled EP is available for free on their website. Mouth's Cradle is one of SU's most well-known rappers. All of the group's music is also available for free on its website, and they are currently recording their first full-length album.