Arts & Culture
Verbal Blend spoken-word poetry program will host citywide college poetry slam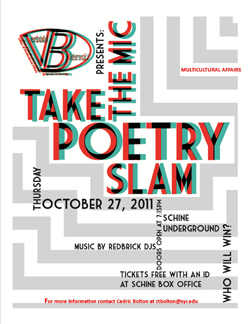 Verbal Blend, a spoken-word poetry program out of the Office of Multicultural Affairs at Syracuse University, will host its citywide "Take the Mic" poetry slam on Thursday, Oct. 27 at 7:30 p.m. in the Schine Student Center Underground. Doors will open at 7:15 p.m. Tickets are free and require an SU/ESF ID or personal ID from community members.
"'Take the Mic' poetry slam is an excellent platform for students to voice their experiences, whether they are political, social, cultural or spiritual," says Cedric Bolton, coordinator of student engagement in the Office of Multicultural Affairs. "The campus and community get to see how scholarship and the arts have no boundaries, and it allows the student performers to stretch their imagination and create a new world through dramatic wordplay."
The poetry slam is a competition of 18 poets, who are selected from an audition process that includes students from Syracuse University, SUNY-ESF, Onondaga Community College and the Rochester Institute of Technology. They will read or recite original material up to three minutes. The competition is two rounds that will be based on: originality; stage presence; content; and delivery and time. Trophies will be awarded to the students who finish in first, second and third place. The event is hosted by Janel Sullivan, a senior English education major in SU's College of Arts & Sciences, with music provided by Redbrick DJs.
The remaining poetry slam auditions will be held in the Office of Multicultural Affairs, room 105 in the Hildegarde and J. Myer Schine Student Center, on the following dates:
Thursday, Oct. 20, from 7-9 p.m.
Friday, Oct. 21, from 7-9 p.m.
Saturday, Oct. 22, from 11 a.m.-3 p.m.
Verbal Blend is a spoken-word poetry program designed to enhance students' confidence in writing and performance of original poems. The program comprises of a six-week workshop series on poetry forms, formats, journal entries and peer reviews.
Participants have showcased their work at public venues, such as open mic nights, Light Works' 2009 night artist reading/reception with Admas Habteslasie, a day workshop with poet Quyarsh Ali Lansana, at the Dr. Martin Luther King Jr. celebration at the Carrier Dome, and special reading with author Tracy Sugarman.
For more information, contact Bolton at 443-9676 or ctbolton@syr.edu.