Arts & Culture
Urban 'improvisationist' Walter Hood to deliver Werner Seligmann lecture at Syracuse Architecture
Walter Hood, professor and former chair of the University of California, Berkeley Landscape Architecture and Environmental Design Department, will deliver the Werner Seligmann lecture at the Syracuse University School of Architecture on Tuesday, Oct. 11, at 4:30 p.m. in Slocum Hall Auditorium.  His lecture, "Public Sculpture," is free and open to the public.  A reception will follow.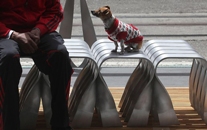 Hood has worked in a variety of settings including architecture, urban design, community planning, environmental art and research.
The art of improvisation has driven the design process throughout Hood's work and unique approach to public art and urban landscapes. His research interests include the critical examination and development of specific urban landscape typologies for the American city.
Since 1992, his studio, Hood Design in Oakland, Calif., has been engaged in architectural commissions, urban design, art installations and research. Projects include the Powell Street Promenade in San Francisco, the Greenprint urban landscape vision for the Hill District in Pittsburgh, and the gardens and landscape for San Francisco's De Young Museum, with Swiss architects Herzog and de Meuron.
In 1997, Hood was a fellow at the American Academy in Rome in Landscape Architecture. He has exhibited and lectured nationally and abroad.  His work was featured in the exhibition and publication, "Open: New Designs for Public Spaces," at Van Alen Institute, N.Y., and has also appeared in Metropolis, New York Times and Dwell. Monographs of his work, "Urban Diaries and Blues" and "Jazz Landscape Improvisations"  reflect his approach to the design of urban landscapes.
To learn more about the work of Hood Design, visit http://www.wjhooddesign.com.
For more information on the School of Architecture's  fall 2011 lecture series, visit http://soa.syr.edu/files/2011/soa-fall-2011-lectures.pdf (PDF).