Arts & Culture
Syracuse Stage's 'The Boys Next Door' finds comedy, compassion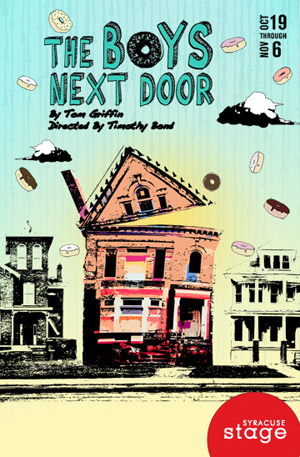 Meet Arnold Wiggins. He's basically a nervous person. He lives with Lucien P. Smith, who fancies very big books; and Norman, who works in the doughnut shop; and Barry, who has schizophrenia and has convinced himself that he is a golf pro. In addition to an apartment, these guys share a caseworker named Jack who, despite his genuine concern for his clients, is on the verge of total burn-out.
"The Boys Next Door" is a gentle comedy from the late '80s set in a group home for people who are developmentally disabled. As playwright Tom Griffin reveals the daily struggles of his characters to make sense of their world and their places in it, he reminds us to consider how much we take for granted every day.
Running Oct. 19-Nov. 6, "The Boys Next Door" will be performed in the Archbold Theatre at Syracuse Stage, 820 E. Genesee St. Tickets range $18-$50 and are available at the Syracuse Stage Box Office, 315-443-3275 or http://www.SyracuseStage.org. The presenting sponsor for "The Boys Next Door" is the Dorothy and Marshall M. Reisman Foundation. Sponsors are Syracuse University Humanities Center, POMCO Group, Burton Blatt Institute and Arc of Onondaga (celebrating their 60th anniversary). The media sponsor is WRVO. Syracuse Stage's 2011-2012 season sponsor is The Post-Standard.
After a successful 1987 off-Broadway run, "The Boys Next Door" was produced at hundreds of theaters around the country and the world, and in 1996 it was made into a movie featuring Nathan Lane.
"It's a fun, funny and very moving rollercoaster ride of a play that stands the test of time," says Timothy Bond, director and Syracuse Stage producing artistic director.
Set clearly in the 1980s, the play sheds light on the progress that has been made for people with developmental disabilities.
"Part of our mission as the region's premier professional theater is to tell the stories of people who have been underrepresented in the American culture," says Bond. "Stories about people with developmental disabilities are rarely ever seen or explored on stage, though they are vital to our community and to so many of our audiences' lives."
During the rehearsal period, members of the cast visited and shadowed with local organizations that provide services to people with disabilities. "The cast has done amazing research in understanding these characters, and they are incredibly skilled, physically and comedically," says Bond. "Many of the actors are from Chicago, where you can find a lot of physical style theater, a big plus for this production."
One hour before each performance, except the Wednesday matinee, an actor from the play will lead a 20-minute discussion that is free and open to all patrons, as part of Stage's "Prologue" program. Actors will answer questions and share stories about the process of developing "The Boys Next Door" at Syracuse Stage.
Throughout the run, a number of community partnerships will highlight the work of local organizations that provide services to people who are disabled. For more information, see the Syracuse Stage website.