Arts & Culture
Fashion, furnishings of Arts and Crafts era unite in 'The American Look'
A new exhibition from Syracuse University's College of Visual and Performing Arts (VPA) unites original Arts and Crafts Movement furnishings, with an emphasis on those designed by Gustav Stickley, with clothing worn by American women during 1909-1913—a rarely seen combination.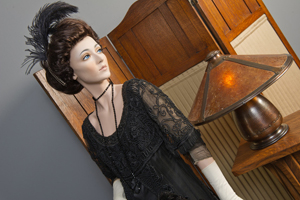 "The American Look: Fashion and Furnishings of the Arts and Crafts Era" will be on view Oct. 15-Nov. 11 at the Design Gallery at The Warehouse, 350 W. Fayette St., Syracuse. The exhibition is free and open to the public. An opening reception will be held on Saturday, Oct. 15, from 2-4 p.m., with a curator's talk at 2 p.m. Regular exhibition hours are Monday-Friday, 10 a.m.-3 p.m.
Exhibition curator Jeffrey Mayer, an associate professor and program coordinator of fashion design in VPA's Department of Design, selected the garments in "The American Look" from the fashion design program's Sue Ann Genet Costume Collection, which he also curates. The furniture, consisting of original pieces produced between 1906-1911, is on loan from David Rudd and Debbie Goldwein of Dalton's American Decorative Arts in Syracuse. Many of the pieces on view are unparalleled examples of the work of Gustav Stickley, none of which have been previously exhibited to the public.
"The exhibition explores the aesthetic change of women's fashion during the period of 1909 to 1913 and how it interacts with the Arts and Crafts craftsman furnishings," says Mayer. "Clothing worn during the day and evening is on exhibition in environmental vignettes, giving the viewer a chance to experience the furnishings and clothing in harmony. The clean, straight lines of the Arts and Crafts furnishings are softened by the Grecian-inspired garments, which were usually embellished with embroidery or lace detailing."
The Sue Ann Genet Costume Collection is comprised of more than 1,500 women's garments and accessories from 1820 to the present. The focus of the collection is women's high fashion, and it includes examples of garments that are indicative of each era, are by well-known designers or were worn by notable women. Donations to the collection are still being accepted.
For more information, contact Mayer or Lauren Tagliaferro, registrar of the Sue Ann Genet Costume Collection, at (315) 443-4644.