Arts & Culture
Fall 2011 Raymond Carver Reading Series presents award-winning novelist Terese Svoboda
The Fall 2011 Raymond Carver Reading Series will continue on Oct. 26 with novelist Terese Svoboda, author of the recently published "Bohemian Girl" (Bison Books, 2011), which critics describe as a cross between "True Grit" and "Huckleberry Finn." The reading will begin at 5:30 p.m. in Gifford Auditorium on the SU campus. A question and answer session from 3:45 to 4:30 p.m. will precede the reading. The event is free and open to the public. Parking is available in SU's paid lots.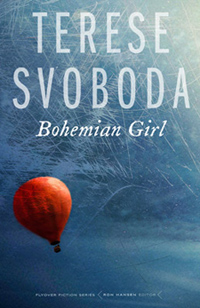 Author of 13 books, Svoboda has had her writing featured in The New Yorker, Times Literary Supplement, The New York Times, The Atlantic Monthly, Slate.com, and the Yale Review and the Paris Review, among others. According to a reviewer for the Washington Independent Review of Books, "Bohemian Girl" marks a departure in subject and content for Svoboda, but "continues in the tradition of literary activism and American picaresque."
Set in the American Midwest around the time of the Civil War, the novel portrays the life of a girl sold by her father to an Indian to pay off a gambling debt, who survives her captivity, meets a variety of savory characters as she travels across the Plains in search of her father, is rescued by a Civil War balloonist, raises an orphaned baby and becomes an accidental shopkeeper who helps runaway slaves.
Svoboda has received numerous awards and recognitions for her work, including an O. Henry for the short story, a nonfiction Pushcart Prize, a translation NEH fellowship, a PEN/Columbia Fellowship, two New York Foundation for the Arts Fellowships in poetry and fiction, a New York State Council on the Arts grant and a Jerome Foundation grant in video, the John Golden Award in playwriting, the Bobst Prize in fiction, and the Iowa Prize in poetry.
A University of British Columbia and Columbia graduate, she has taught at Sarah Lawrence College; Fordham University; Williams College; College of William and Mary; University of Hawaii; University of Miami; Fairleigh Dickenson University; the New School; in St. Petersburg, Russia, and Nairobi; and held the McGee Professorship at Davidson College.
Named for the great short story writer and poet who taught at SU in the 1980s, the Raymond Carver Reading Series is a vital part of Syracuse's literary life. Presented by the Creative Writing Program in The College of Arts and Sciences, the series each year brings 12 to 14 prominent writers to campus to read their works and interact with students.
Fall 2011 Series Schedule
The series will continue with the following authors. All readings begin at 5:30 p.m. in HBC Gifford Auditorium. Question and answer sessions are from 3:45-4:30 p.m. Further information is available by calling (315) 443-2174.
Nov. 9: Jennifer Grotz, author of two books of poetry, "The Needle" (Houghton Mifflin Harcourt, 2011) and "Cusp" (2003).
Nov. 30: Peter Balakian, author of many books, including six books of poems, the most recent "Ziggurat" (University of Chicago Press, 2010).
Dec. 7: Christopher Kennedy, professor, and author of four poetry collections, including his most recent, "Ennui Prophet" (BOA Editions Ltd., 2011).