Campus & Community
Syracuse Stage open house planned for Nov. 5
Syracuse Stage has announced plans for its 2011 Open House, 10 a.m.-2 p.m. on Saturday, Nov. 5. Festivities will include guided backstage tours, free performances of the annual Bank of America Children's Show "New Kid" (directed by Stage's Director of Educational Outreach Lauren Unbekant), hourly ticket raffles, a presentation by SU's Department of Drama and complimentary refreshments throughout the day. All events will be free and open to the public.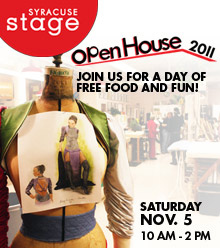 Later the same day, two performances of Syracuse Stage's "The Boys Next Door" will take place at 3 p.m. and 8 p.m. in the Archbold Theatre, and a performance of SU Drama's "Fuddy Meers" will take place at 8 p.m. in the Storch Theatre. Show tickets are available at 315-443-3275.
All events during Stage's 2011 Open House will be appropriate for families of all ages. The full schedule is available at: http://syracusestage.org/default.aspx?page_id=78.