Media, Law & Policy
Sean O'Keefe G'78 is keynote speaker at SU Veterans Day Ceremony Nov. 11
National security expert and former NASA administrator Sean O'Keefe G'78 will be the keynote speaker at Syracuse University's second annual Veterans Day Ceremony on Friday, Nov. 11, at 11 a.m. at Hendricks Chapel. All veterans, past and present, will be honored for their service and dedication.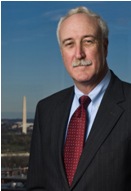 O'Keefe is CEO of EADS North America, a global leader in aerospace, defense and related services. He received a master's of public administration from the Maxwell School of Citizenship and Public Affairs.
Grammy nominee Michael Peterson will return to sing at this year's event. Peterson is the 2008 recipient of the Bob Hope, "Spirit of Hope" award for his service to the nation and the servicemen and women of the Armed Forces, will sing the national anthem and "He Ain't Heavy, He's My Brother." The Veterans Day Ceremony is sponsored by University College.
The 198th Army Band will perform military hymns at 10:30 a.m. as guests arrive, before the historic chimes at Crouse College toll at 11 a.m. to announce the beginning of the ceremony. After dignitaries and veterans process into Hendricks Chapel, Dean Tiffany Steinwert will give the invocation. Stacy Pearsall, Air Force veteran and award-winning military photojournalist, will serve as mistress of ceremonies. Pearsall graduated from the Military Photojournalism Program at the S.I. Newhouse School of Public Communications.
Brief commentary about the history of Veterans Day will be shared by Lieutenant Colonel Ray Bowen, chair of SU's Air Force ROTC, and Sean Galloway, president of the Student Veterans Club, prior to O'Keefe delivering his keynote remarks.
Post ceremony, a wreath will be laid on the Kenneth A. Shaw Quad by ROTC Honor Guard Cadets as taps is played. Following the raising of the flag, a luncheon will be held at noon at Panasci Lounge in the Hildegarde and J. Myer Schine Student Center.
The ceremony and luncheon are open to all members of the SU campus community and alumni. There is limited seating for the luncheon; pre-registration is required. For the full day's events and to pre-register, visit: http://veterans.syr.edu/VeteransDayEvent2011.html. For special needs parking, call 443-2462.
Syracuse University has a long and proud tradition of supporting veterans, from its historic role educating the post-World War II generation under the original GI bill, to its commitment to post-9/11 servicemen and women. SU has been named a "Military Friendly School" by G.I. Jobs magazine each year since 2009.