Third annual Salt City Urban Art & Craft Market Oct. 22
The third annual Salt City Urban Art & Craft Market takes place Saturday, Oct. 22, from 10 a.m.-6 p.m. at King + King Architects, located at 358 W. Jefferson St. The Salt Market continues its mission to showcase Central New York's outstanding contemporary artists, designers and crafters. Vendors will offer an eclectic variety of creative wares, clothing and jewelry, stationary, comics and original artwork.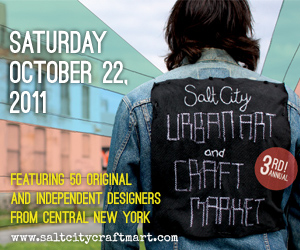 With help from the Near Westside Initiative, the Salt Market found a new home this year at King + King Architects. Located just outside Armory Square, the Salt Market will be held in the warehouse and along the raw loading dock.
"These areas of the building grabbed us immediately and completely lend themselves to the urban aesthetic, which we find so inspiring," says Briana Kohlbrenner, one of Salt Market's organizers and founders. The new space allowed for adding 20 new vendors, bringing the total to 50. "The new artists and their creations bring an exciting element to this year's show; they are a diverse and talented group."
The Central New York community has enthusiastically embraced and supported the Salt Market with last year's attendance over 1,500. "Everything about the show has an internal logic that makes sense to me," says Helen Carter, a vendor from Secret Lentil clothing who has participated since the event started in 2008. "The local food, the musicians, the care with which they curate the vendors and the smiles on everyone's faces. All this adds up to a unique energetic show that is a perfect fractal of what's great about our community."
Food will be available from Syracuse favorites Strong Hearts Cafe, Roji Tea Lounge and Cafe Kubal. Local musicians will also provide entertainment.
For more information about the Salt City Urban Art & Craft Market, contact Vanessa Rose at 917-680-6195 or visit http://www.saltcitycraftmart.com or email info@saltcitycraftmart.com.