Fedrizzi, Lyons to present 'Pioneering Innovation for Sustainability: Food, Shelter and Community' Nov. 11
The demands and trends of urbanization and sprawl, and the pressures it poses on our environment and resources are tasking communities to develop and implement sustainable solutions today, for the challenges of tomorrow. Fifty years from now, what will people eat? Where will people live? How much energy will they consume?
As international leaders and advocates for sustainability, as well as Central New York residents, S. Richard Fedrizzi G'87 and Oren Lyons '58, H'93 are uniquely positioned to share their insights on the importance of providing for a sustainable future–locally and around the world. Both Fedrizzi, president, CEO and founding chair of the U.S. Green Building Council (USGBC), and Lyons, faithkeeper of the Turtle Clan, Onondaga Council of Chiefs of the Haudenosaunee, will field questions from the audience in an open dialogue event, "Pioneering Innovation for Sustainability: Food, Shelter, and Community. A Conversation with Rick Fedrizzi and Oren Lyons."
This showcase event as part of SU's Orange Central 2011 will take place Friday, Nov. 11, at 9 a.m. at the Syracuse Center of Excellence headquarters, 727 E. Washington St. A continental breakfast with displays will be available beginning at 8 a.m. The event is free and open to the public, but participants are asked to RSVP by sending an email to orangecentral@syr.edu. Syracuse University alumni can also register online at http://orangecentral.syr.edu.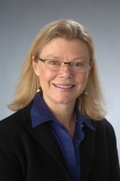 The program will be moderated by Shere Abbott, SU vice president for sustainability initiatives and University Professor of Sustainability Science & Policy. Abbott is a leading expert in the field of sustainability science and policy. Prior to joining SU, she was a senior adviser to President Barack Obama, serving as associate director for environment of the Office of Science and Technology Policy in the Executive Office of the President. 
Fedrizzi and Lyons will share their perspectives on the three pillars of sustainability: environmental stewardship, economic vitality and social equity.