Arts & Culture
Principal of world-renowned engineering firm Buro Happold to lecture at Syracuse Architecture
Craig Schwitter, PE, managing principal of Buro Happold, North America, will lecture at the Syracuse University School of Architecture on Tuesday, Oct. 25, at 5 p.m. in Slocum Hall Auditorium. Buro Happold is one of the top building services engineering firms in the world. Schwitter's lecture, "Sustaining Innovation in a Built Environment," will address how architects, as designers, can respond and contribute to a more sustainable model of innovation. The lecture is free and open to the public.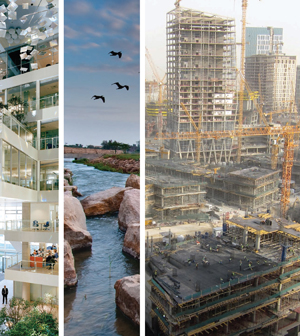 With more than 20 years of experience, Schwitter is a leader in the engineering design of complex buildings and large-scale developments that include educational, performing arts, cultural, civic, stadia, transportation and master planning projects. Schwitter received his BSCE degree from The Johns Hopkins University, and his MSCE from Massachusetts Institute of Technology. In 1999, he founded the first North American office of Buro Happold Consulting Engineers. Under his leadership, the North America region offices have expanded to offer a full suite of engineering arts, including: structural, MEP, geotechnical and façade engineering, lighting design, fire and life safety, sustainability consulting and sustainable master planning services.
With a focus on integrated engineering and the use of appropriate technology, Schwitter has played a hands-on role in ensuring the high quality in Buro Happold's projects and breakthrough innovations on recent high profile engineering commissions with the firm. The firm's work in low-energy and high-performance buildings has been a key area of technology development that Buro Happold continues to pursue across its worldwide portfolio of projects. Under Schwitter's direction, the firm has developed the Adaptive Building Initiative and G. Works, both related industry efforts in North America that address today's critical low-carbon and high-performance building design issues.
Key projects in the United States include: the Smithsonian Historic Patent Office Roof Canopy (Washington, D.C.), the High Line (New York City), the World Trade Center Memorial Pavilion (New York), Fashion Institute of New York and Yale School of Management (New Haven, Conn.). International projects include: the Millennium Dome (UK), the King Abdullah Financial District (Riyadh, KSA), the Abu Dhabi Media Zone (Abu Dhabi, UAE), and Aerospace City Qatar (Doha, Qatar).