Campus & Community
Office of Residence Life's school supply drive fills classrooms of local schools
The Office of Residence Life completed its second annual student supply drive, "Student to Student," for the Syracuse City School District. On Thursday, Sept. 29, SU campus members delivered 18 boxes of school supplies to seven K-8 schools. In addition, a banner was created for each school to wish them a great year.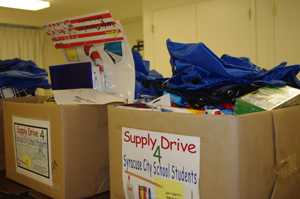 "It is very commendable that Syracuse University and the Office of Residence Life were involved in such a nice gesture," says Claudia Stockard, principal of Van Duyn Elementary School. "With so much happening all over our community, you are to be congratulated for your efforts. Van Duyn School truly appreciates all that you and your peers are doing and have done."
The school supply drive committee expressed thanks to all the students and staff who donated to the drive, as well as special recognition to the following campus members for their support:
The Department of Recreation services for the many boxes of pens;
The L.C. Smith College of Engineering and Computer Science for the 50-plus backpacks/sling bags;
The SU Bookstore for placing collection boxes on site.
"It was inspiring to coordinate and be part of this drive because our committee witnessed dedicated students, faculty and staff, who took the time to give back directly to the greater Syracuse Community," says Karina Pipes, residence director for Skyhalls. "I've learned the most requested school supply is No. 2 pencils and it has made me think about how one pack of pencils can directly impact a young student's education."
The "Student to Student" supply drive initiative is coordinated by the Office of Residence Life, with support from the Mary Ann Shaw Center for Public and Community Service and the Office of First-Year and Transfer Programs.