Arts & Culture
New spring course offers drumming as cross-cultural community building
Beginning Nov. 9, students can register for a new spring course, EDU 200, "Rhythm and Roots: Building Cross-Cultural Community through Drumming." Instructed by renowned music educator Nisha Purushotham, this one-credit course uses African diaspora drumming to create community across difference, increase cultural competency and discuss the role of religion and spirituality in the arts. The class will meet on Wednesday evenings from 6-9 p.m. and allows up to 25 students. See the course syllabus.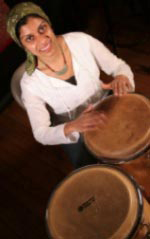 "This course is an exciting collaborative between the Division of Student Affairs, our schools and colleges and the wider Syracuse community," says Tiffany Steinwert, dean of Hendricks Chapel. "We are delighted to host Nisha and look forward to embedding this drumming project into our established programs at the Hendricks Chapel Office of Engagement Programs. This course will live on each year as we send students into the community to teach drumming as means to create community and seek justice."
The "Rhythm and Roots" course is part of a broader 10-week residency co-sponsored by Hendricks Chapel, the School of Education, the College of Visual and Performing Arts and the Upper New York Annual Conference of the United Methodist Church. The residency will consist of:
a 10-week course for up to 25 SU students;
a community-based drumming workshop for up to 25 Syracuse residents;
two apprenticeships supervised by the artist; 
three presentations for audiences of up to 100; and 
a performance featuring Syracuse University students and community members with artist talk-back following the performance.
Purushotham is a multi-instrumentalist, singer-songwriter and artist educator based in Boston. She is a classically trained pianist who learned and performed works from the Baroque, Romantic and Classical periods. Since 1998, she has studied Afro-Caribbean and North Indian percussion traditions with master drummers from Cuba, Dominican Republic and India. She is a folk arts fellow of the Massachusetts Cultural Council and former fellow of the Folk and Traditional Arts Apprenticeship Program of the Rhode Island State Council on the Arts. In 2000, she founded The Rhythm and Roots Project, which builds community, animates creative expression, nurtures cultural knowledge and inspires social change.
Students may apply to become an apprentice drummer, learning how to use drumming as a form of community building while teaching in a local high school. Apprentices will be expected to lead a similar program in the Fall of 2012 through the Office of Engagement Programs.
COMMUNITY-BASED WORKSHOP
Participants will learn traditional West African and Afro-Caribbean rhythms and explore the roots and characteristics of these rhythms through excerpts of performances and writings by musicians, poets and authors of the African diaspora. Participants will create a final performance in partnership with University students in the 10-week course. This workshop series will meet twice per week for 90 minutes per workshop. It is open to up to 25 participants.
PRESENTATIONS
Purushotham will offer an interactive presentation for the University, titled "Finding the Hidden Pulse: drumming as a tool for cross-cultural community building." Attendees will then be guided in polyrhythmic music-making using their voices, bodies and West African and Afro-Caribbean percussion.
PERFORMANCE AT HENDRICKS CHAPEL AND ARTIST TALK-BACK
The residency will culminate in a performance by SU students and community members in Hendricks Chapel. This performance will be open to the University community and general public.
For more information or to apply to become an apprentice, contact Steinwert at tsteinwe@syr.edu or call Hendricks Chapel at 315-443-2902. For more information on Purushotham, visit http://www.nishapurushotham.com.