Health & Society
Michael Bird to present 'Health Disparities Among Native Americans'
A nationally recognized public speaker on Native American public health, health disparities and social justice, Michael E. Bird, will present a special lecture, "Health Disparities Among Native Americans," on Wednesday, Oct. 12 at 6 p.m. The free lecture, which is open to the public, will take place in the Life Sciences Building, room 001.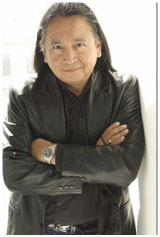 Bird is a Santo Domingo-San Juan Pueblo Indian from New Mexico with more than 25 years of public health experience. The first—and only—individual of Native American descent who served as president of the American Public Health Association, his expertise spans medical social work, substance abuse prevention, health promotion and disease prevention, HIV/AIDS prevention, behavioral health and health care administration. 
Bird's lecture is part of a multi-faceted visit focused on Native American public health. In addition to meeting with faculty and students in the  David B. Falk College of Sport and Human Dynamics, which has academic programs in public health, child and family global health, social work, and addiction studies, Bird will meet with representatives from the University's Office of Multicultural Affairs, as well as faculty from the Anthropology Department in the Maxwell School of Citizenship and Public Affairs. He will also be a featured speaker in one of the University's Native American Studies courses, Haudenosaunee Language and Culture. During his visit, Bird will also meet with students at the Onondaga Nation Health Center. 
Bird currently serves as a public health consultant for the Kewa Pueblo Health Board and the Kewa Pueblo tribal officials and is working to develop a tribally owned and directed health center. He also provides private consulting services to public health, social work, government and educational institutions in specialty areas that include health disparities, program development, and health policy for American Indian communities.  He earned his M.S.W. from the University of Utah and his M.P.H. from the University of California, Berkeley. 
This event has been made possible through generous support from the Falk College, as well as Syracuse University's Office of the Chancellor, Office of Multicultural Affairs' Native Student Program, the Office of Admissions, Indigenous Law Students Association, the Department of Anthropology, the Meredith Professor Program and the Onondaga Nation Health Center. Paid parking will be available at the Marion Lot and Booth and University Avenue garages. For more information about this lecture, contact (315) 443-2048 or sdlane@syr.edu.