Media, Law & Policy
LinkedIn higher ed expert John Hill to visit SU's Newhouse School Oct. 12
John Hill, higher education evangelist with LinkedIn, will visit Syracuse University's S.I. Newhouse School of Public Communications on Wednesday, Oct. 12, as the kick-off speaker for the Newhouse Global Leaders in Digital and Social Media Speaker Series. He will speak on "LinkedIn and the Future of Social Networking" at 6 p.m. in the Joyce Hergenhan Auditorium in Newhouse 3. His talk is free and open to the public. Parking is available in SU pay lots. Follow the talk on Twitter via #NewhouseGLDSM.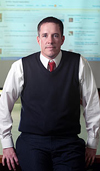 Hill will discuss new developments at LinkedIn, and outline the ways individuals and organizations can build relationships and connect with people using the online network. He will also offer information about how higher education professionals can utilize the tool to aggregate audience, target market, qualify development leads, engage alumni and recruit and develop robust networks.
Prior to joining LinkedIn, Hill was the director of alumni career services and internship development at Michigan State University. He also worked as associate editor/online editor for Athlon Sports; sports editor for the Franklin Review Appeal; market development manager for the Lansing State Journal; and Sports Writer for Lansing Community Newspapers.
He earned a bachelor's degree in journalism from Michigan State University's College of Communication Arts & Sciences.
The Newhouse Global Leaders in Digital and Social Media Speaker Series explores innovative digital and social media engagement from around the world. Speakers represent leadership in thought and innovation in their fields.
For more information about Hill's talk, contact Betsy Feeley at (315) 443-7401 or eafeeley@syr.edu.