Arts & Culture
UVP features video by Iñigo Manglano-Ovalle at Everson site
Urban Video Project will present "Always After (the Glass House)" by internationally recognized multimedia artist Iñigo Manglano-Ovalle, through November and December. It will be shown Sunday-Thursday, dusk-11 p.m., outside the Everson Museum of Art.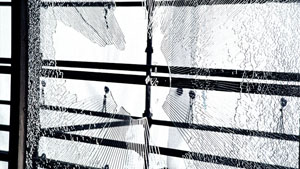 Employing footage shot on a high-speed film camera, "Always After" focuses on the broken glass accumulated after the windows of the Mies-designed Illinois Institute of Technology's Crown Hall were smashed by the architect's own grandson as part of a ceremony in advance of the building's renovation. Manglano-Ovalle scrupulously edits out all clear reference to this odd 'kill your fathers' ritual, leaving the viewer with a dream-like sequence in which well-shod anonymous masses eternally exit and equally anonymous custodians endlessly move in to sweep up the crystalline debris of modernism. The precise nature of the event—whether it is a natural disaster, a terrorist attack or just routine construction—never becomes clear. Instead, the narrative unfolds like a Jacob's ladder: never reaching the end, passing again and again through the point where modernist progress and crisis become indistinguishable—a point that is always already "after."
Manglano-Ovalle (born in Madrid, 1961) has received numerous awards and grants, including a MacArthur 'genius' Fellowship and a Guggenheim Fellowship. His work has been included in numerous exhibitions, including solo exhibitions at El Museo de Arte Contemporáneo de Monterrey and Museo Tamayo Arte Contemporaneo, Mexico City; the Art Institute of Chicago; and the Massachusetts Museum of Contemporary Art; among many others. His work has been included in such group exhibitions as the Whitney Biennial, New York; Liverpool Biennial; and at The Power Plant, Toronto, Canada. Manglano-Ovalle is currently represented by Donald Young Gallery in Chicago, Galerie Thomas Schulte in Berlin, and Galleria Soledad Lorenzo in Madrid. He is a professor in the Department of Art Theory & Practice at the Weinberg College of Arts and Sciences at Northwestern University.