Campus & Community
Hendricks Chapel sponsors Thanksgiving Dinner Drive through Nov. 11
The Office of Engagement Programs at Syracuse University's Hendricks Chapel will help Syracuse families celebrate the Thanksgiving holiday through its annual Thanksgiving Dinner Drive, now through Friday, Nov. 11.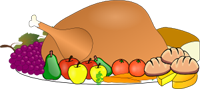 Those interested in donating are asked to fill a new, reusable canvas bag with the following suggested items: a $20 grocery store gift certificate (to enable the purchase of a turkey); a box of stuffing mix; a can of vegetable broth; a box of Bisquick; a can of cranberry sauce; a bag of fresh potatoes or yams; a can of yams; a can each of corn and green beans; a bag of fresh apples; and anything else you would like to include for a holiday meal.
Items may be dropped off at the Office of Engagement Programs or in the Hendricks Chapel Dean's Office, both located on the lower level of Hendricks Chapel, now through Nov. 11.
A packaging party will be held in the Hendricks Chapel Noble Room on Nov. 11 from noon-3 p.m.; all are welcome to stop by and help package food and make cards. Refreshments will be provided.
For more information, contact the Office of Engagement Programs at Hendricks Chapel at 443-1254 or email engagesu@syr.edu.