Campus & Community
SU's 'Greek or Treat' engages Syracuse area youth
On Friday, Oct. 28, the Syracuse University Greek community will be hosting its seventh annual Greek or Treat event from 3-5:30 p.m. This annual event welcomes Syracuse youth into the fraternity and sorority houses located on Walnut Avenue and Walnut Place for various Halloween-themed activities.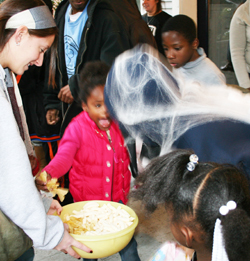 Greek or Treat is a great opportunity to give back to the youth in Syracuse," says Darren Cole, senior political science and psychology major and Delta Kappa Epsilon fraternity member. "It is important for all chapters to participate in the event because we often forget the multitude of opportunities and privileges we gain with our affiliation to our respective chapters, so Greek or Treat allows us to give back to the community."
Greek or Treat is a collaboration between the SU Greek chapters, Syracuse Department of Parks and Recreation, Syracuse community centers and after-school programs. The fraternities and sororities located in the Walnut area serve as hosts and are paired up with the remaining SU chapters. Traditionally, the event draws more than 300 local area youth and 200-300 SU student volunteers.
"The Syracuse Department of Parks and Recreation has been involved with Greek or Treat since its inception," says Christopher Abbott, recreation program director. "It has become one of the more anticipated events of the fall program for many of our after-school youth. From the creative games and activities, to the extensive Halloween displays, it's evident year after year that the students devote a great deal of time and energy to preparations for the event. It's another shining example of SU's commitment to the community."
For more information on Greek or Treat, contact Michele Kaplan at mrkaplan@syr.edu.