Arts & Culture
'Fuddy Meers' presents hilarious antics in a world where nothing is what it seems
With moments like a wild carnival ride, throwing the characters back and forth between perception and reality, playwright David Lindsay-Abaire masters off-beat humor in "Fuddy Meers" with a colorful cast of characters consisting of a lisping, limping man; a pot-smoking teenager; an ex-con turned suburban father; a man who uses a puppet to communicate; a skeptical police officer; and an amnesiac woman.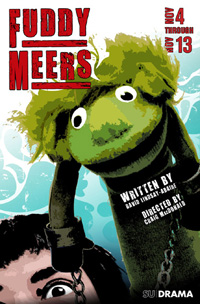 Caught in the distortions of fun house mirrors is where we find "Fuddy Meers'" protagonist, Claire, a woman who has a type of amnesia that erases her memory when she sleeps. For years, everyone has told Claire who she is, while in the midst of sorting out their own secrets and misfortunes. Then one morning, a familiar stranger takes her on a wild, dream-like car ride that leads Claire to uncover the truth—whether the people around her want her to or not.
Presented by the Department of Drama in Syracuse University's College of Visual and Performing Arts, "Fuddy Meers" runs Nov. 4-13 in the reconfigured Storch Theatre at 820 E. Genesee St. Tickets are $16-$18, available at 315-443-3275 or by visiting http://vpa.syr.edu/drama. SU Drama's season sponsor is WAER 88.3.
"Memory is tricky," says director Craig MacDonald. "It's all about creating and satisfying illusion. We package the past as we choose to, but reality impedes on that."
MacDonald appreciates the "dark, disturbing inappropriate humor" in "Fuddy Meers," though he was especially drawn to the play by a line spoken by Claire's mother, Gertie: "I wish I would've said something when I could have." MacDonald says this line gives the play a sense of humanity and takes it to a deeper place.
Playwright Lindsay-Abaire is best known for writing the Pulitzer Prize-winning play and Oscar nominated film "Rabbit Hole."