Campus & Community
Persons named associate vice president of government and community relations
Eric Persons has been named associate vice president of government and community relations at Syracuse University. The appointment, made by Kevin Quinn, senior vice president for public affairs, was effective Sept. 26.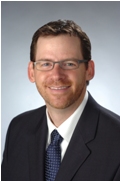 Persons will be responsible for developing and implementing the University's governmental, political and community relations strategy, and ensuring SU's presence in the city, regionally and nationally through engagement with elected officials, government agencies, not-for-profit organizations and civic and community organizations. Persons will partner collaboratively with SU's schools and colleges, Academic Affairs and the Division of Advancement and External Affairs (AEA) to support SU's broader mission to advance its public partnerships. 
"Eric's previous experience has prepared him well for this senior leadership role," says Quinn. "He has a strong track record of working in the community with SU's faculty and students in developing new initiatives, and his career has spanned public policy and development in different management capacities here in Syracuse, Washington, D.C., and overseas." 
Most recently, Persons was AEA's director of regional programs and engagement, and prior to that he served as project manager for the Connective Corridor, where he supported the University's community engagement efforts in downtown Syracuse. Persons worked with SU faculty and community members to develop the Connective Corridor design competition that laid the foundation for the project's strategic development. This past summer, he worked with the Maxwell School of Citizenship and Public Affairs and SU alumnus Sid Lerner '53 and his wife, Helaine, to establish the Lerner Center for Public Health Promotion, which will work to improve community well-being and reduce chronic preventable diseases in Central New York. He also volunteered with the Onondaga Citizens League at University College in its work to develop a framework for government modernization throughout the region. 
"Since arriving in Syracuse, I've seen a remarkable level of leadership and engagement emerge in this community, across all levels of government and in our neighborhoods," says Persons. "I am honored to have the opportunity to work with our faculty, students and our community partners in that process of discovery and development, which is moving Syracuse University and our community forward." 
Persons has also served as assistant director of European programs for the Maxwell School, where he implemented and coordinated lectures and other scholarly activities pertaining to transatlantic relations. Prior to joining SU, Persons was employed in a similar position directing all facets of University programs overseas in a partnership with Georgetown University. While based in Washington, D.C., he managed programs that reached out to 27 different countries. There, he developed a new marketing and admissions plan that increased student enrollment, expanded its regional partnerships, increased revenue and organized events to engage students with high-level diplomats, governing officials and corporate leaders. 
Persons earned his bachelor's degree from Buffalo State College in communications and broadcast journalism, a master of public administration degree from the Maxwell School, and a second master's degree from the Maxwell School in international relations. He's also studied at Georgetown University and Charles University (Prague, Czech Republic).