Arts & Culture
Imagining America's Dream Freedom Revival to begin Sunday, Oct. 9
Imagining America: Artists and Scholars in Public Life (IA) will inaugurate an ongoing campus-community art, humanities and democracy project on Sunday, Oct. 9, at 2 p.m. at La Casita Cultural Center at 109 Otisco St., with a performance, meal and conversation.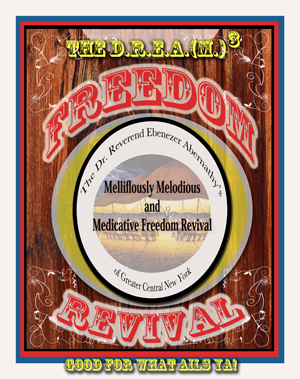 The ongoing project is "Dr. Reverend Ebenezer Abernathy's Mellifluously, Melodious and Medicative Freedom Revival of Greater Central New York," or for short, the Dream Freedom Revival (DFR). Directed by IA's Associate Director Kevin Bott, the DFR is a character-driven, community-based musical theater project that is inspired in part by the 19th-century Evangelical revivals that were prominent in Central New York. The DFR draws on this region's history and legacy of freedom.
"The guiding ethos of the project is that democracy is driven by those who participate in it," says Bott. "Our aim is to use popular performance to inspire and encourage a meaningful engagement with real-world issues in Syracuse and the Central New York region. My goal is that the many groups and individuals working on social and political issues see that performance can be used to bring more people directly into the conversations and activities they're already undertaking."
The upcoming DFR event will feature a collectively generated performance with original music, lyrics and dialogue. Bott will play a secular "preacher," Dr. Ebenezer Abernathy, who travels Central New York to celebrate democracy and encourage local participation in the questions that affect the lives of residents. Musical collaborators include Timothy K. Eatman, IA's research director and assistant professor in SU's School of Education; Danan Tsan, singer, songwriter and regular performer with Syracuse Opera; Caroline Kim Tihanyi, well-known local singer and songwriter; and Tim Regan, Cazenovia resident and soon-to-be student at Boston's Berklee College of Music. The "Freedom Choir and Band" will be comprised of a diverse group of campus and community stakeholders that includes local performers and activists, as well as undergraduate students, graduate students and faculty members from SU, Onondaga Community College and SUNY-Oswego.
Following the performance, attendees are invited to stay and converse over refreshments. The performance and conversation will be in English and Spanish, and will emphasize issues of interest to Latinos and Latinas, West Side residents and other Syracuse city residents.
"We are proud and excited to be hosting the first DFR event this Sunday," says Inmaculada Lara-Bonilla, co-founder of La Casita Cultural Center. "The event will be an opportunity to share our projects and ideas around a compelling cultural experience. The DFR project has already involved a number of local residents in the creation of this first performance, and we trust it will continue to engage community members in creative and participatory ways."
"The DFR is a unique opportunity to encourage innovation and integration of knowledge and creativity to identify and solve real-world problems through art and humanities," says Eatman. "We aspire for the project to develop into a model of democratic publicly engaged scholarship and campus-community collaboration that can be a resource to IA's national network."
IA will be in residence at SU through 2017. The DFR builds on IA's 2009-2010 Art-in-Motion project that was led by IA Director Jan Cohen-Cruz. The DFR is planning additional fall performances, each tailored to the specific issues and concerns of the community stakeholders involved. Bott is also planning an SU spring course on DFR in SU's College of Visual and Performing Arts.
For more information, contact Jamie Haft, communications manager for Imagining America, at (315) 443-8765, jmhaft@syr.edu, or visit Imagining America at http://www.imaginingamerica.org and the Dream Freedom Revival blog at http://dreamfreedomrevival.org.