'Democracy Now!' host Amy Goodman to speak Nov. 3
The Syracuse Peace Council and Syracuse University's Tully Center for Free Speech will present "Independent Media: Speaking Up for Democracy" with "Democracy Now!" host Amy Goodman on Thursday, Nov. 3, at 7 p.m. in Hendricks Chapel.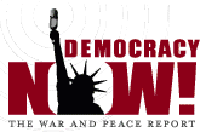 The event is free and open to the public.
The event is being held in honor of Syracuse Peace Council's 75th anniversary. "Democracy Now!" will be broadcast from WCNY's studio in Liverpool on Friday, Nov. 4.
Hosted by Goodman and Juan Gonzalez, "Democracy Now!" is a national, daily, independent award-winning news program. It is the largest community media collaboration in the United States, airing on more than 900 stations across the nation and beyond. The program's War and Peace Report provides listeners with access to people and perspectives rarely heard in the U.S. corporate-sponsored media, including independent and international journalists, ordinary people from around the world who are directly affected by U.S. foreign policy, grassroots leaders and peace activists, artists, academics and independent analysts.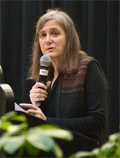 Goodman is a best-selling author and journalist internationally recognized as a strong advocate for independent journalism. She was named one of the 20 Top Global Media Figures of 2009 by PULSE. Her latest book, "Breaking the Sound Barrier" (Haymarket Books, 2009) proves the power of independent journalism in the struggle for a better world. She writes a weekly column syndicated by King Features.
Goodman is the recipient of multiple awards for journalism, including: American Women in Radio and Television Gracie Award, the George Polk Award, the Robert F. Kennedy Prize for International Reporting and the Alfred I. duPont-Columbia Award.
Additional co-sponsors of the event are the S.I. Newhouse School of Public Communications, Hendricks Chapel, the Institute for the Study of the Judiciary, Politics and the Media (IJPM), the Division of Advancement and External Affairs, the Department of Anthropology, the Department of Communication and Rhetorical Studies, the Department of Geography, the Program for the Advancement of Research on Conflict and Collaboration, the Department of Political Science, the School of Education, the Department of Sociology, University College, the Department of Women's and Gender Studies and the Writing Program.