Arts & Culture
Buglisi Dance Theatre to complete residency with two selections
Syracuse University's Arts.Engage and the Rose, Jules R. and Stanford S. Setnor School of Music in the College of Visual and Performing Arts have welcomed the world-renowned Buglisi Dance Theatre (BDT) for a 20-day residency at SU, which began Oct. 10, and will last until Oct. 30. During this time, the company will perform two selections, "The Table of Silence Project 9/11" and "Fauré Requiem."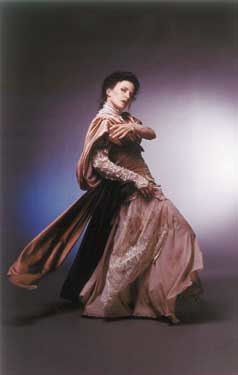 "The Table of Silence Project 9/11" will be performed on Friday, Oct. 21, at 5 p.m. on the Kenneth A. Shaw Quad. A procession featuring approximately 50 community members will begin on the Quad and move to the Place of Remembrance.
On Saturday, Oct. 29, at 7 p.m., the BDT will perform "Fauré Requiem" at the Crouse Hinds Theater at Syracuse's downtown Civic Center, in collaboration with the Syracuse University Symphony Orchestra, SU singers, sopranist Janet Brown and conducter James R. Tapia of the Setnor School of Music.
"Using images, literature, poetry, heroic archetypes and a consuming physicality, I craft dances that explore human relationships, revealing the bold visceral strengths, humor and exquisite vulnerabilities of the individual," says artistic director Jacqulyn Buglisi. "My dances represent my dream to embrace the integration of art forms through the collaborative process and current multi-media technologies, and my passion to inspire, engage and attract the next generation of artists and diverse audiences into the realm of theatrical dance theater."
BDT was established in 1994 by former members of the Martha Graham Company. World-class production values and theatrical appeal have won BDT the American Dance Guild Award for Artistic Excellence and invitations worldwide to the John F. Kennedy Center for the Performing Arts; Jacob's Pillow Dance Festival; the Sosnoff Theater at the Richard B. Fisher Center for the Performing Arts, Bard College; the Kravis Center, West Palm Beach; SUNY Purchase Performing Arts Center; Evening Stars Festival; the Vail International Festival; the Society of Performing Arts, Houston; the Baryshnikov Arts Center; The Juilliard Theatre; Lincoln Center; Dance St. Louis, the Yale Center for British Art, and abroad to festivals in Australia, France, the Czech Republic, Israel and Italy, reaching more than 25,000 people annually during their live performances.
BDT expands its service to the community with site-specific performances at such venues as the Whitney Museum; the steps of Federal Hall and New York Stock Exchange for the LMCC/River to River Festival; Utica College football field for the Special Olympics opening ceremony; and Dancing at the Crossroads in Times Square. BDT presents its home seasons at the Joyce Theater, New York City's pre-eminent venue for contemporary dance, where the company marked its 17th anniversary season in February 2011, featuring the world premiere of "Letters of Love on Ripped Paper." For more, visit http://buglisidance.org.
Arts.Engage is part of Syracuse University's Office of the Arts Presenter, which engages and inspires audiences through diverse performance art. The 2011-2012 season includes David Sedaris, Buglisi Dance Theatre, Harlem stride pianist Stephanie Trick, Kronos Quartet, Diavolo and more. Arts Engage collaborates with Syracuse Stage and Ping Chong & Company on the ongoing creation of "Cry for Peace: Voices from the Congo," a documentary theater production based on the stories of Central New York Congolese refugees. For more information, visit http://facebook.com/SUartsengage, and contact Leah Stacy at (585)749-2947 or lrstacy@syr.edu.