Business & Economy
Whitman MBA, Sustainable Enterprise Partnership ranked on Beyond Grey Pinstripes Global Top 100 list
The Aspen Institute's 2011-12 Beyond Grey Pinstripes report has ranked Syracuse University's Whitman School of Management among the top in the world for integrating environmental, ethical and social issues into graduate business education. This first-time Whitman School Beyond Grey Pinstripes Top 100 ranking recognizes Whitman's M.B.A. program and the Sustainable Enterprise Partnership (SEP) as major contributors to SU's leadership in teaching and researching issues pertaining to sustainability in business and society.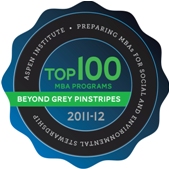 Beyond Grey Pinstripes is a biennial international measure of how well schools are preparing their students for the environmental, social and ethical complexities of modern-day business. The Beyond Grey Pinstripes project is produced by the Aspen Institute's Business and Society Program. According to BGP, competition in the current round of submissions was extremely high, with 149 schools from 22 countries submitting data for the 2011-2012 edition. 
"Beyond Grey Pinstripes is the international gold standard for M.B.A. program excellence in sustainability," says Mel Stith, dean of the Whitman School. "It provides prospective graduate students from around the globe with an objective assessment of courses and programs in which environmental and social challenges are addressed with the same rigor as economic issues." 
Whitman's M.B.A. program provides students with the resources of a large, multi-national and multi-cultural institution while maintaining the benefits of a smaller program. The Whitman full-time M.B.A. program integrates practical experiences into the curriculum to prepare students for real-world business situations through its experiential learning platform. This unique curricular requirement includes experiences where students create practical applications of classroom learning to business problems and make connections with decision-makers through internships, consulting projects, specialized courses and community engagement.  
The SEP is a collaborative effort of the Whitman School, SUNY College of Environmental Science and Forestry (SUNY-ESF), L.C. Smith College of Engineering and Computer Science, and the Syracuse Center of Excellence in Environmental and Energy Systems (SyracuseCoE). 
"We scored especially well on Beyond Grey Pinstripes' 'business impact' ranking criterion, which is based on courses that specifically address the integration of business, environmental and social considerations," says Elet Callahan, faculty director of the SEP and professor of law and public policy at the Whitman School. "This reflects our transdisciplinary focus and the strengths of our partner institutions." 
The SEP's Certificate of Advanced Study in Sustainable Enterprise (CASSE) is open to all full-time graduate students at SU and SUNY-ESF. Students who participate in the CASSE program culminate their program as consultants on a sustainable enterprise project. The CASSE uniquely prepares students to lead organizations through economic, environmental, technical and social dilemmas presented by phenomena such as climate change, volatile energy prices and explosive growth in developing economies. 
The Aspen Institute mission is twofold: to foster values-based leadership, encouraging individuals to reflect on the ideals and ideas that define a good society, and to provide a neutral and balanced venue for discussing and acting on critical issues.