Arts & Culture
'Presenting Bakelite: the material of a thousand uses,' an illustrated lecture by Reindert Groot
In conjunction with its ongoing exhibition "Just One Word: Plastics," the Syracuse University Library will host Dutch producer/photographer and Bakelite expert Reindert Groot, founder of the Amsterdam Bakelite Collection. The presentation will take place in the Peter Graham Scholarly Commons at Bird Library on Thursday, Oct. 27, at 5 p.m.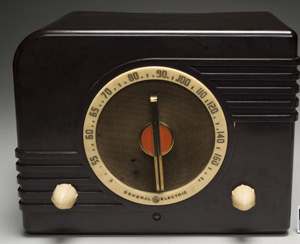 Groot founded the Amsterdam Bakelite Collection in 1990. What began as a curiosity became a passion, and Groot's Bakelite Collection is now among the largest and most varied, housing approximately 4,000 American and European objects. Groot is a leading expert on the history, design, collecting and conservation of Bakelite and other thermoset plastics, especially those produced in the first half of the 20th century.  
Groot's presentation will discuss Bakelite and its inventor, Leo Hendrik Baekeland, and trace the rise and fall of this famous plastic. He will include some of his own adventures as a collector of Bakelite in the shuttered factories and flea markets of the world. Groot will also show rarely seen historic film clips about the material and early plastics industry. 
Bakelite was the first entirely synthetic plastic and remains the most beloved. Its invention in 1907 ushered in the modern age of synthetics, when new materials can be engineered for specific uses. From a practical standpoint, it was essential to the development of electrical appliances, home electrification and the automobile industry, as well as the invention of materials such as Formica. 
Groot curated the exhibitions "Heat and Pressure–100 Years of Bakelite" and "Bakelite in Yonkers: Pioneering the Age of Plastics" shown at several American museums in 2008-10. He is currently producing a documentary film about Bakelite and its inventor. 
For more information about the lecture, contact Sam Gruber at sdgruber@syr.edu.