Annual auction to aid Syracuse Public Interest Network to be held Nov. 11
The Syracuse Public Interest Network (SPIN) will host its 19th annual Public Interest Auction on Friday, Nov. 11, at the Rosamond Gifford Zoo in Syracuse. The event begins at 6 p.m. and includes both silent and live auctions for such items as professional sports memorabilia, leisure activities, fine dining and much more. Proceeds from the auction help to support law students who are pursuing careers in public interest work that benefits children, victims of domestic violence, immigrants, refugees and the homeless. Public interest work also benefits a number of causes, including environmental protection, social justice, civil liberties and the College of Law's Cold Case Justice Initiative.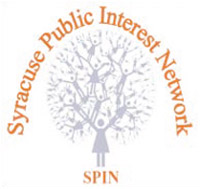 Many public interest organizations are faced with an overwhelming caseload and are in need of help, but are unable to offer a level of compensation that would make them competitive with larger firms to prospective employees. Adding to this problem is the fact that many students are unable to accept unpaid summer internships. Without the financial support of fellowships provided by SPIN, the majority of students wanting to work in public interest would not be able to work in these vitally important positions during summer breaks. 
"The SPIN Fellowship provided me with the opportunity to work at the Volunteer Lawyer Project of the Onondaga County Bar Association this summer. My fellowship gave me the opportunity to learn about the importance of pro bono attorneys and their responsibility in helping those who cannot afford access to legal services," says second-year law student Cady Sinnwell Gerlach. "Due to the SPIN Fellowship at the Volunteer Lawyer Project, I have improved my work as the SUCoL Pro Bono Fellow, now exploring pro bono projects that students can become involved in a volunteer capacity and working to increase student knowledge and involvement in pro bono activities."
Last year the SPIN auction, formerly known as 'GO", raised nearly $40,000, which helped provide 16 students with fellowships. The SPIN fellows worked in legal service organizations, government offices and nonprofit legal organizations in the Syracuse area and nationwide. 
The majority of SPIN's funding for fellowships is raised at the annual SPIN Public Interest Auction. For more information, to donate items or to attend the event, call 443-1146, e-mail SPIN@law.syr.edu or visit the SPIN website at http://www.law.syr.edu/spin.