Campus & Community
'A Run For THEIR Life:' The Carol M. Baldwin Breast Cancer Inaugural Run, Oct. 23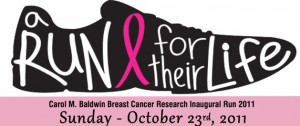 The inaugural "A Run For THEIR Life" event will be held on Sunday, Oct. 23.
The 15K run, and the 5K run and walk will begin at 9 a.m. in sequential order.Same day registration at SU's Manley Field House is available beginning at 7 a.m., closing at 8:15 a.m.
The 5K run and walk travels through Thornden Park, and the 15K run will proceed through Thornden Park and down through the Connective Corridor to the Armory Square area, and back to Manley Field house.
Individuals are invited to run, walk, volunteer or donate to this inaugural event, with the purpose to find a cure in our lifetime. Sponsors include Syracuse University Athletics.
"A Run for THEIR Life" is the only breast cancer run held in Syracuse where proceeds go directly to SUNY Upstate Medical University.
For full information, visit www.cmbarunfortheirlife.com.
Contact:
Jacqueline Baldwin-Calveric
Ambassador
Carol M. Baldwin Breast Cancer Research Fund of CNY
jaruke@gmail.com
617-913-5922