Campus & Community
"Wretches and Jabberers" screening for students Sept. 19
On Monday, Sept. 19, at 7 p.m. in the Schine Student Center's Goldstein Auditorium, students are invited to join Syracuse University's School of Education and the University Arts Presenter for a special screening and Q&A with the stars of "Wretches and Jabberers," a film by Gerardine Wurzburg.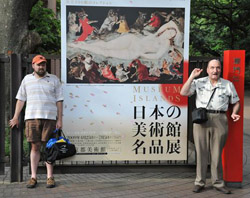 The movie follows Tracy Thresher and Larry Bissonnette, two men with autism, as they embark on a global quest to change attitudes about disability and intelligence. Watch the trailer: http://www.youtube.com/watch?v=jzZ_I0LoTaM&feature=player_embedded.
*The film is open-captioned, ASL provided.
Website: www.wretchesandjabberers.com
Contact Person: Lisa Chestney, assistant director for First-Year and Transfer Programs, lchestne@syr.edu.