Veterans
V-WISE hosts women veteran entrepreneurship training program Sept. 25-27 in Baltimore
For Waldorf, Maryland resident Helen M. Hall, a veteran of the U.S. Air Force and Air National Guard, the upcoming Veteran Women Igniting the Spirit of Entrepreneurship (V-WISE) program—one of the first federally funded training programs focused on entrepreneurial opportunity for female vets—will offer critical networking opportunities with female vets from the greater Baltimore-D.C.-Northern Virginia area, and further hone her business skills to address the recent growth her company, Quik-help.com™, has experienced.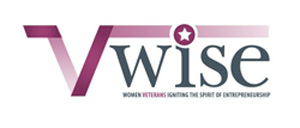 Founded at the Whitman School of Management at Syracuse University, and now offered under the auspices of the University's Institute for Veterans and Military Families (IVMF) in cooperation with the U.S. Small Business Administration, V-WISE will be held Sunday, Sept. 25, through Tuesday, Sept. 27, at the Sheraton Inner Harbor, Baltimore.
V-WISE is offered to 200 participants per session, and includes two training environments; a growth track for participants already in business, and a start-up track, for potential entrepreneurs. Courses include business planning, marketing, accounting/finance, operations/production, human resources and work-life balance. Ongoing support and mentorship is delivered online and through a robust, comprehensive network of mentors and partners.
Hall, who will participate through the growth track, assists small businesses in achieving maximum efficiency of their QuickBooks® product. With more than 10 years of experience in QuickBooks consulting, Hall has helped a wide range of businesses—including builders, plumbers, electricians, retailers, government contractors, consultants, realtors and nonprofits—through her endeavors. A QuickBooks professional adviser, Hall is a financial officer for American Legion Post 293, Post 82 and County, a lifetime member of the American Legion, Veterans of Foreign Wars and AMVETS (American Veterans) and a member of the Charles County Chamber of Commerce.
The Baltimore program includes a full agenda of keynoters, panels, speakers and instructors from academia, industry, government and the military. In addition, Gen. Ann E. Dunwoody, commanding general of the U.S. Army Materiel Command, and Major Gen. Gina S. Farrisee, commander of the U.S. Army Human Resource Command at Ft. Knox, Ky., will be honored as pioneering women in the military.
V-WISE Baltimore is filled to capacity. Participants were responsible for a $75 registration fee and their own transportation; however food, lodging and materials are being fully funded by the program.