Campus & Community
University launches official mobile app
Collaborative development puts SU in the palm of your hand
Syracuse University has launched its first official mobile application in the Apple Store. The app is expected to be available soon in the Android Marketplace and the Blackberry App World.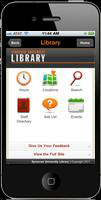 "This free app delivers a range of information about SU and the services offered on campus," says Nicci Brown, SU's associate vice president for marketing and communications. "And this is just a starting point—we expect this to be a continuously improving and more comprehensive tool for students, faculty, staff and other members of the SU community."
A team composed from SU's Advancement and External Affairs, Information Technology and Services (ITS), Syracuse University Library, Enrollment Management, S.I. Newhouse School of Public Communications, Syracuse University College of Law and the School of Information Studies collaborated to build the app, with development and production help from WillowTree Apps, Inc.
According to Jenny Gluck, associate chief information officer for academic services and mobile app team lead, "The team is looking to get suggestions for enhancements and new functionality. Ideas and comments should be sent to help@syr.edu, or submitted via the feedback page in the app."
The app allows users to choose from among multiple themes and get the latest on SU news and events, search the directory for faculty and staff, check the campus map and weather, find library resources and free computers in the public ITS computer labs, and more.
Version 1.0 features include:
News and Events: Latest SU news and information about important campus and University events; 
Mapping: Users can see what SU buildings are near their current location. The SU maps use Foursquare's API with Google maps to help navigation around campus; 
Library: Search and access library resources, including SUMMIT classic catalog, IEEE Xplore ®, JSTOR, Encyclopedia Britannica and more; 
Directory: Search for faculty and staff, and email or call with one tap; 
Social Hub: Aggregate of latest Twitter feeds from SU; 
Weather: Current Syracuse weather outlook;
Multiple themes: SU's main theme, and themes with resources from SU's schools and colleges; and
Quick ticket: Request tech help from ITS.
More information about the official SU mobile app can be found at http://sumobile.syr.edu/.