Campus & Community
Dollar Day at the Dome is Oct.1
Donations to benefit United Way of CNY
Before the Syracuse University football team kicks off against Rutgers on Oct. 1 at noon, more than 200 student members of SU's fraternities and sororities and other student organizations will be stationed at Carrier Dome entrances, on the Kenneth A. Shaw Quad and across campus soliciting donations for the United Way of Central New York.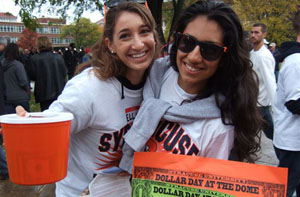 In its 13th year, Dollar Day at the Dome is an annual fundraising event and a vital part of SU's United Way campaign. Patrons who donate will be investing in the 95 local programs and services at 35 local agencies that benefit from the United Way of Central New York.
SU has just begun its 2011 United Way campaign, which runs through Dec. 9. Leading SU's campaign efforts this year are campaign chair Chief Tony Callisto, director of Public Safety, and campaign vice-chair Suzanne Thorin, University Librarian and dean of libraries.
Other United Way campus campaign events to be held in the coming months will include silent auctions, barbecues, "jeans days," a chili cook-off, an art auction and craft fairs. Last year, SU raised a record-setting $215,000 through campus participation in the campaign.
For more information on Dollar Day at the Dome or SU's United Way campaign, contact Jenn Horvath in the Department of Public Safety at 443-8328, or jmhorv01@syr.edu.