Arts & Culture
'Koppel-Langella: One on One' to air Sept. 29 on PBS
"Koppel-Langella: One on One,'' the conversation between Tony Award-winning and Academy Award-nominated actor Frank Langella '59 and former "Nightline" anchor Ted Koppel '60, H'82, is set to air at 9 p.m. Thursday, Sept. 29, on WCNY channels 24.1 and 24.4 (HD).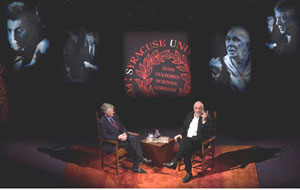 "One on One'' highlights Koppel's memorable interview with stage and film actor Langella before a live audience at Syracuse Stage, during Syracuse University's 2010 Orange Central celebration. At the sold-out event, Langella discusses how he became an actor at Syracuse, the benefits of attending the University, and once sharing an infirmary room with football star Jim Brown ("He was a God,'' Langella said when recalling the chance meeting). 
Langella reflects on his long and distinguished career in film and on Broadway. The three-time Tony Award winner discusses the fascinating personalities he has met along the way, reveals his love for the process of filmmaking and describes how an actor grows into the character he plays. From writer George Prager in "Diary of a Mad Housewife'' (1970) to Count Dracula in "Dracula'' (1979) to Richard Nixon in "Frost/Nixon'' (2008), Langella is known for playing a variety of challenging roles. He speaks in great detail about why he didn't initially want to play Nixon, but after doing exhaustive research he became fascinated by the many facets of Nixon's personality. 
Koppel, the anchor of "Nightline'' from 1980-2005, is at his interviewing best during the hour-long program. The interview was recorded while Langella was filming "Wall Street: Money Never Sleeps,'' which was released in September 2010. 
"Koppel-Langella: One on One'' was co-produced by SU, Syracuse Stage and WCNY. 
After the Sept. 29 debut on WCNY 24.1 and 24.4, it will repeat at 3 p.m. Oct. 4, and 5 p.m. Oct. 5 on channel 24.4. 
Based in Syracuse, WCNY serves a 19-county viewing and listening area, reaching more than 1.8 million households via on-air, radio and online content. WCNY broadcasts television programming on main channel 24.1, WCNY2, and three digital channels, including high-definition 24.4. WCNY-FM, the only classical music station in Central New York, is broadcast on WCNY-FM 91.3 in Syracuse, WJNY-FM 90.9 in Watertown, WUNY-FM 89.5 in Utica, and over the Internet on www.wcny.org. For more information, contact Matt Michael, WCNY public relations manager, at matthew_michael@wcny.org, or 315-453-2424 ext. 221.