Campus & Community
SU designers win national awards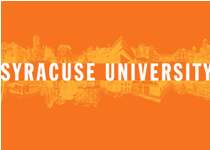 Elizabeth Percival, designer in Syracuse University's Office of Publications, has won a 2011 American Graphic Design award from Graphic Design USA for an admissions postcard she designed. This is the second year in a row in which Percival has been involved in a winning design (last year she won for "SU Viewbook").
Additionally, last year Amy Janack McVey, designer in SU's Office of Publications, won the national USA American Graphic Design Award for Education Exchange.
The Office of Publications is a division of Public Affairs.