Campus & Community
Syracuse University's Sept. 11 Service of Remembrance and Hope to be webcast
A Service of Remembrance and Hope will be held on Sunday, Sept. 11, at 2 p.m. in Hendricks Chapel to commemorate the 10th anniversary of the Sept. 11, 2001, terrorist attacks upon the United States. The event will be webcast so that members of the Syracuse University community across the nation and the world may participate.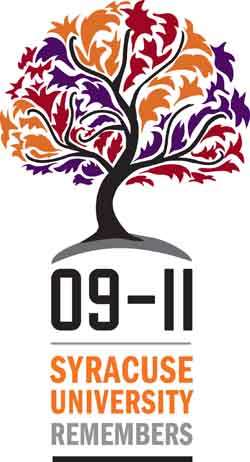 The webcast can be accessed on Sunday afternoon at http://video.syr.edu/vpu/ or through the http://www.syr.edu/september11 website.
The service will feature an interfaith prayer created by the Hendricks Chapel Chaplains' Council; musical selections performed by the Syracuse University Brass Ensemble, Hendricks Chapel Choir, Black Celestial Choral Ensemble and Syracuse Children's Chorus. Remembrances and reflections will be offered by Thomas V. Wolfe, senior vice president and dean of student affairs, and Laura E. Beachy, a senior and a Remembrance Scholar.
The symbol chosen for the event is A Tree of 40 Fruit, a piece from the living garden of current work by Sam Van Aken, associate professor in the College of Visual and Performing Arts. Van Aken's trees begin with one identity and are developed through a process of budding and grafting to accept, nurture and produce branches yielding different fruit. Each branch feeds from the same source, yet produces its unique bounty—symbolizing and commemorating the success of acceptance, a sign of hope and renewal.
As the tree matures, it will produce more than 40 different types of fruit from the family of stone fruits, including peach, plum, apricot, nectarine and cherry. Blossoming in variegated tones of white and pink in early spring and yielding an abundance of fruit throughout the summer, the tree becomes a metaphor for themes reflecting acceptance, globalism and multiculturalism.
After the Sept. 11 service, A Tree of 40 Fruit will be planted on the Quad to serve as a remembrance of the victims of Sept. 11, 2001, and as a continuing sign of hope and renewal to the SU community.