Campus & Community
Syracuse University celebrates Senior Alumni Weekend Sept. 9-11
Syracuse University will welcome the reunion classes of 1941, 1946, 1951, 1956 and 1961 back to campus Sept. 9-11 for Senior Alumni Weekend. Reunion classes will have opportunities to reminisce with classmates, talk with current students, enjoy academic programs and special reunion events, tour campus and attend a football game in the Dome.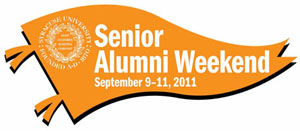 The Goldstein Alumni and Faculty Center is Senior Alumni Weekend headquarters, and SU's Office of Alumni Relations online has all the important details and highlights of the weekend.
In addition to strolling around campus to visit both familiar and new places, alumni can take a one-hour campus tour in the comfort of a shuttle bus. Tours depart from the Goldstein Alumni and Faculty Center during the weekend and are available on a first-come, first-served basis. Additionally, alumni can tour the campus's art history with David Prince '83, curator of the University Art Collection. The walking tour departs from the Shaffer Art Building at 1 p.m. on Friday and concludes at the Goldstein Alumni and Faculty Center at approximately 3 p.m.
Dinners, luncheons and receptions present great mixing opportunities with classmates and friends. The Class of 1961 celebrates 50 years with the Golden Anniversary Dinner on Friday evening in the Milton Atrium in the Life Sciences Complex. The Melvin A. Eggers Senior Alumni Award Dinner at Drumlins Country Club is open to all alumni who have already celebrated their 50th reunion, especially those from the classes of 1941, 1946, 1951 and 1956 (for registration details, contact the Office of Alumni Relations at (315) 443-3258 or e-mail sualumni@syr.edu). Congratulations to this year's Melvin A. Eggers Senior Alumni Award recipients—Edward S. Miller '51 and Kenneth Sparks '56, G'61, G'64.
Additionally, alumni can attend many game-day festivities around campus and on the Kenneth A. Shaw Quad prior to the kickoff of the SU/Rhode Island football game, scheduled for 4:30 p.m. at the Carrier Dome.
Among the other special weekend events are:
Election 2012, Friday, Sept. 9, at 10 a.m. in the Founders Room, Maxwell Hall. Bob McClure, Chapple Family Professor of Citizenship and Democracy Emeritus, will share his insights on what to expect during the upcoming presidential election. Light breakfast will be served.
Inside Look: The Syracuse Biomaterials Institute, Friday, Sept. 9, at 1 p.m., 318 Bowne Hall. Tour the research institute and hear its director—Pat Mather, SU's Milton and Ann Stevenson Professor of Biomedical and Chemical Engineering—talk about the exciting research taking place at the Syracuse Biomaterials Institute (SBI).
"Preparing Students for the Changing Role of Orchestral Musicians in the 21st Century: A Conversation with Daniel Hege and Patrick Jones," Friday, Sept. 9, at 1 p.m., Setnor Auditorium, Crouse College. Open to the public. Professional orchestras are feeling financial pressure and the music industry is changing. Therefore, careers as professional orchestral musicians will require a broader set of skills. This discussion will be about helping to identify those skills and how best to prepare today's music students for careers as orchestral musicians. Hege is the Stevenson Professor of Practice in the the Rose, Jules R. and Stanford S. Setnor School of Music in the College of Visual and Performing Arts, and Jones is the new director of the Setnor School.
SUArt Galleries exhibition "Drawn to Paint: The Art of Jerome Witkin," Join Senior Curator Edward Aiken on Friday at 3 p.m. for a gallery talk and tour celebrating Witkin's 40-year teaching career at SU. The gallery is located in the Shaffer Art Building, adjacent to Sims Hall, and is open 11 a.m.-4:30 p.m. Tuesday through Sunday and 11 a.m. -8 p.m. Thursday.
Organ recital with Donald Ingram '54, G'60, Saturday, Sept.10, 5 p.m., Setnor Auditorium, Crouse College.
For a full schedule of Senior Alumni Weekend events, visit http://www.syr.edu/alumni/events/senior-alumni-weekend.html, or contact Alumni Relations with questions at 800-SUALUMS (782-5867) or sualumni@syr.edu.