Campus & Community
Miller, Sparks to be honored with Eggers Senior Alumni Awards
Distinguished alumni Edward S. Miller and Kenneth R. Sparks will be honored with the Melvin A. Eggers Senior Alumni Award during the annual Melvin A. Eggers Senior Alumni Award Dinner, to be held Friday, Sept. 9, from 5-8 p.m. at Drumlins Country Club, 800 Nottingham Rd.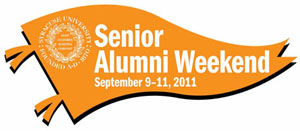 Established in 1988 by former SU Chancellor William Pearson Tolley in honor of then-Chancellor Melvin A. Eggers, the award recognizes senior alumni for their loyalty and service to the University.
The dinner is part of the University's Senior Alumni Weekend, which will be held Sept. 9-11 to honor the reunion classes of 1941, 1946, 1951, 1956 and 1961. The cost of the dinner is $30 per person. For reservations or for more information, contact the Office of Alumni Relations at (315) 443-3258 or e-mail sualumni@syr.edu.
Edward S. Miller '51


Known as "Buddy" during his years at SU, Miller describes his undergraduate years as nomadic, switching from business administration to political science and finally settling on economics. A member of Phi Epsilon Pi fraternity (now Zeta Beta Tau), he graduated magna cum laude and Phi Beta Kappa. He later attended the Harvard Business School Advanced Management Program.
Miller served in the U.S. Army and spent most of his career with American Metal Climax (AMAX), an international mining corporation now part of Freeport McMoran. Within AMAX, he served as vice president of planning, chief of mergers and acquisitions, and senior vice president and treasurer. He was later appointed by President Ronald Reagan as vice president of finance of the U.S. Synthetic Fuels Corp.
In retirement, Miller fulfilled a long-held desire to write history books, particularly about the run-up to World War II in the Pacific. He has authored "War Plan Orange: The U.S. Strategy to Defeat Japan, 1897-1945" (Naval Institute Press, 2007) and "Bankrupting the Enemy: The U.S. Financial Siege of Japan Before Pearl Harbor" (Naval Institute Press, 2007). Both books were based on recently declassified documents disclosed for the first time.
A current resident of Washington, D.C., Miller is director of the Naval Institute and the Old Congressional Cemetery and a member of the James Madison Council of the Library of Congress. He has been a White House volunteer during the tenures of Presidents William Clinton, George W. Bush and Barack Obama.
Miller is receiving the Melvin A. Eggers Senior Alumni Award for his philanthropic service to Syracuse University as trustee of a private foundation established in 1946 by Otto Sussman, a CEO of AMAX. The foundation aids people in need of financial assistance with a caveat—a grant must solve a one-time need that will enable the recipient to overcome a personal crisis and move forward. Miller has directed much of the foundation's efforts toward SU seniors whose families have suffered a setback—such as loss of a job, disability or death—that would have forced the student to drop out of the University. Over the past 25 years, the foundation has made approximately 400 grants worth approximately $1.5 million to seniors in every field of study.
Kenneth R. Sparks '56, G'61, G'64


Sparks is president and CEO of Ken Sparks Associates LLC, a management and consulting company specializing in public affairs and economic development. He served as the executive vice president and chief executive officer of the Federal City Council in Washington, D.C., from 1972 until his retirement in 2004. Prior to his appointment, he served for two years as the council's executive director. During Sparks' tenure, the council played an important role in such diverse efforts as the development of the 110-mile Metro rapid rail system, the Union Station redevelopment, the Verizon Center, the Washington Convention Center, low- and moderate-income housing, breakthrough drug treatment programs, the Economic Club of Washington, the establishment of a Police Foundation and educational reform.
From 2004 until 2010, he served as a director of the Federal Reserve Bank of Richmond. He taught Telecommunications Law and Regulation at William and Mary Law School in 2005, and served as a director of the Center for International Private Enterprise from 2000 to 2009.
From 1988 to 1991, he directed a presidential commission to oversee development of the International Trade Center at the Ronald Reagan Building. He also chaired a METRO task force to develop a funding plan for capital improvements. Sparks was one of the founders of the Economic Club of Washington and served as its secretary from 1986-2004. Concurrent with his tenure at the council, Sparks taught at the Virginia Commonwealth University and the American University between 1970-1981.
Prior to joining the council, Sparks was director of public affairs for the U.S. Office of Economic Opportunity and served in several positions with the U.S. Information Agency, including research director for the Voice of America and director of European research. Sparks served on active duty as a public information officer and naval aviator with the U.S. Marine Corps from 1957-1960, flying the F8-U Crusader.
A native of Niagara Falls, N.Y., Sparks holds a Ph.D. in international communication from SU, and a J.D. from The George Washington University.
Sparks was named "Washingtonian of the Year" in 1987 and has received many other honors, including the Marine Corps Scholarship Foundation's Globe and Anchor Award, and President's Medals from both Syracuse and The George Washington University. In 2004, he received the Arents Award, Syracuse's highest alumni honor. Sparks was inducted into the Washington Business Hall of Fame in 2006.
He is currently a consultant with HSBC Bank, the Union Station Redevelopment Corp. and MedStar Health Corp. He is also on the board of the International Limousine Service Inc. He is an avid golfer, pianist, vocalist and composer of both popular and classical music.