Arts & Culture
Yale art critic Sarah Oppenheimer to open Syracuse Architecture fall lecture series
Artist Sarah Oppenheimer, known for challenging one's perceptions of physical space within existing structures, will speak at the Syracuse University School of Architecture on Thursday, Sept. 15, at 5 p.m. in Slocum Hall Auditorium. The lecture, co-sponsored by SU's  College of Visual and Performing Arts, will focus on her recent work. It is free and open to the public.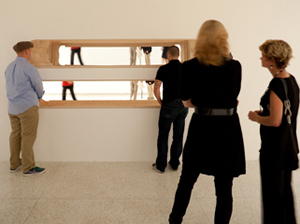 "Oppenheimer's work typically uses architectural interventions to examine how we perceive space. Her installations often create disorienting or puzzling illusions that lead the viewer to question what s/he thought they knew about their position or orientation within a building," says Tyler Green, art critic for ARTINFO.
Oppenheimer received a B.A. from Brown University in 1995 and an M.F.A. in painting from Yale University in 1999. She joined the Yale faculty in 2003 and was appointed critic in painting/printmaking in 2005.
Recent projects include an installation at Baltimore Museum of Art—her first permanent commission at a major American museum; "MF-142" at Annely Juda, London; "VP-41" at Art Unlimited, Basel; and "Automatic Cities" at the Museum of Contemporary Art, San Diego.
Her work has also been at the Brown University Cognitive Science Building (permanent commission); Museum of Art and Design, New York City; The Warhol Museum, Pittsburgh; Skulpturens Hus, Stockholm; Saint Louis Art Museum; and the Youkobo Art Space,Tokyo.
She is the recipient of a Rome Prize Fellowship 2010-11, a Louis Comfort Tiffany Foundation Fellowship 2009, a Guggenheim Foundation Fellowship 2007, an American Academy of Arts and Letters Award in Art 2007, an NYFA fellowship (in the category of Architecture/Environmental Structures) 2006, and a Rema Hort Mann Foundation Fellowship 2003.
To learn more about her work, visit sarahoppenheimer.com.