Arts & Culture
Point of Contact Gallery presents 'EDIFICE'
Mexican-born, New York City-based artists Gabriela Alva C. and Natalia Porter present their collaborative project, EDIFICE, at the Point of Contact Gallery. Curated by Pedro Cuperman, the show features Alva and Porter in response to the work of Boston artist Andrew Witkin's writings. An opening reception with the artists, free and open to the public, will be held Sept. 29 at 6 p.m.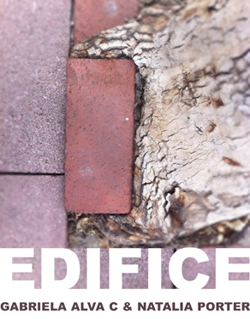 Whether it is architecture, city planning, new-found cultural norms or age-old issues of separation, Porter and Alva question, investigate and propose. Having partnered in previous projects as curator/artist and as co-curators, they now team up as artists for the first time, at Point of Contact. For this exhibit, Porter and Alva employ work by Boston-based Witkin, a series of texts and diagrams, to serve as a bridge from written word to spatial arrangement, and from artist to writer to curator, warping the term "collaboration" to be more dynamic.
Witkin's writings, which can be read as "lists," are accumulations of thoughts that suggest a sense of order, but still remain abstract. They are organized in an undefined way and yet are quite concrete. They repeat, are rhythmic and include a sense of time and space. Both Porter and Alva respond to the juxtaposition of order and abstraction, as well as to the visual composition of Witkin's publications. Working collectively and individually, these artists push the means, methods and roles of an exhibition and its participants, seeking and constantly finding new points of contact.
For more information about this and other upcoming programs at Point of Contact, visit the website at http://www.puntopoint.org. Punto de Contacto-Point of Contact is a New York nonprofit corporation supported through grants from the New York State Council on the Arts (NYSCA) and Syracuse University.