Campus & Community
Mary Nelson Youth Center 'Beyond the Dream' gala Sept. 17
The Mary Nelson Youth Center in Syracuse will host its inaugural 'Beyond the Dream' black-tie gala on Saturday evening, Sept.17, at the Oncenter Complex. Being honored at Saturday's gala are SU men's basketball coach Jim Boeheim, and his wife, Juli, who will jointly receive the Distinguished Mentor Award.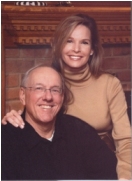 The fundraiser will benefit the center's programs designed to help youth from all racial backgrounds advance from kindergarten to college. The gala will also honor leaders in medicine, education, sports, corporate diversity, philanthropy and community service, and award merit scholarships to college-bound students. 
The Mary Nelson Youth Center operates daily with a staff of volunteers, workers, mentors and tutors who together provide a safe haven for youth. Mary Nelson has hosted an annual—nationally recognized—barbecue in Syracuse that provides more than 16,000 kids each year with school supplies at no cost to their families. The center also provides free breakfast, lunch and dinner daily. 
For more information, visit http://www.youthdaybarbecue.com, or call 315-422-5690.