Arts & Culture
Maria Hinojosa is first guest of University Lectures 2011-12 season
Maria Hinojosa, host of National Public Radio's "Latino USA" and one of the most influential Latino/a journalists in the nation, will kick off the University Lectures 2011-12 season at Syracuse University on Tuesday, Sept. 27.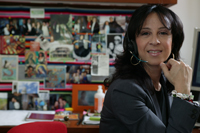 Hinojosa will speak on "Making the Invisible Visible" at 7:30 p.m. in Hendricks Chapel. The lecture is free and open to the public; reduced-rate parking will be available in the Irving Garage. Sign language interpretation and CART will be available for this lecture.
During her visit to Syracuse, Hinojosa will participate in the grand opening of La Casita Cultural Center on Sept. 28.
Hinojosa has been documenting the story of Latinos in America for her entire career. She was the first Latina to be hired at NPR in Washington, and later became the first Latina correspondent for the network. Because of her work with the network's Latino USA, Hinojosa is now recognized as one of the most influential Latino/a journalists in the country. In the new century, the drama of Latino immigration has become one of the most compelling, yet divisive, stories of our country. Latino USA is heralded by thousands of listeners who say that the program keeps them in touch with the pulse of a new America. Over the past year, Latino USA has opened its airwaves and website to increasing the dialogue about what this change means.
In addition to her work with NPR, Hinojosa has been senior correspondent for "NOW" on PBS, the host of the Emmy Award-winning talk show "Maria Hinojosa: One on One" produced by WGBH/La Plaza, and the author of two books—"Raising Raul: Adventures Raising Myself and My Son" (Penguin, 2000) and "Crews: Gang Members Talk with Maria Hinojosa" (Houghton Mifflin Harcourt, 1995).
The University Lectures is a cross-disciplinary lecture series that brings to the University individuals of exceptional accomplishment. The series is supported by the generosity of the University's trustees, alumni and friends. The lectures are free and open to the public.
The Office of University Lectures welcomes suggestions for future speakers. To recommend a speaker, or to receive additional information about the University Lectures series, contact Esther Gray in the Office of Academic Affairs at 443-2941 or eegray@syr.edu. More information can be found at http://lectures.syr.edu.
Other scheduled guests during the fall 2011 semester include Katrina vanden Heuvel, editor and publisher of The Nation magazine (Oct. 4); humorist and author David Sedaris (Oct. 11, all tickets for this lecture have been distributed); Moira Gunn, host of NPR's Tech Nation, in conversation with scientists Carol Finn, Pamela Matson and Elsa Reichmanis '72, G'75 (Oct. 26); and journalist and author Bob Herbert (Nov. 15).
During the spring 2012 semester, guests will include author Jonathan Franzen, in conversation with writer and professor George Saunders (March 6); novelist Zadie Smith (March 20); and environmentalist and author Terry Tempest Williams (March 29).