Arts & Culture
VPA ceramist Margie Hughto to show new work at Everson Museum
Margie Hughto, professor of ceramics in the College of Visual and Performing Arts' Department of Art, will show new work in the solo exhibition "Margie Hughto: A Fired Landscape" Oct. 1-Jan. 12 at the Everson Museum of Art, 401 Harrison St., Syracuse.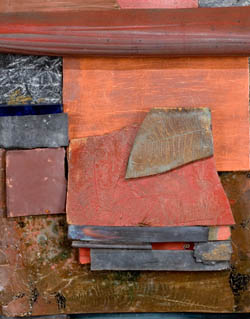 An opening reception will be held Friday, Sept. 30, from 5:30-8 p.m. The reception is free for Everson members and $10 for all other guests at the door.
"The ceramic installation features new work created specifically for the museum, consisting of brilliantly colored wall reliefs that continuously wrap around the gallery, allowing viewers to enter into a ceramic landscape," says Debora Ryan, Everson Museum of Art senior curator. "Though primarily abstract, her work also borrows impressions from the natural world, such as marine life and fossils."
Hughto has been included in numerous exhibitions since the 1970s and has completed permanent public artworks across the country, including a ceramic painting located in a subway stop in Buffalo. N.Y. Her panoramic "Trade, Treasure and Travel," a series of ceramic murals installed two levels beneath New York City's World Trade Center in 1998, miraculously survived the Sept. 11 terrorist attacks unharmed. The work was recently reinstalled at the Cortlandt Street station in conjunction with the 10th anniversary of 9/11.
In January 2012, visitors to Syracuse's new Public Transportation Common Center will get the first views of a major public artwork created by Hughto specifically for this location.
The Everson Museum is open to the public Tuesday-Friday and Sunday, noon-5 p.m., and Saturday, 10 a.m.-5 p.m. Admission is $5 per person (suggested donation). For more information, visit http://www.everson.org.