Campus & Community
Local Internship Fair to bring more than 100 employers to campus Sept. 21
On Wednesday, Sept. 21, Syracuse University's Kenneth A. Shaw Quad will be abuzz with networking conversations as students connect with local organizations about internship opportunities in the Central New York region.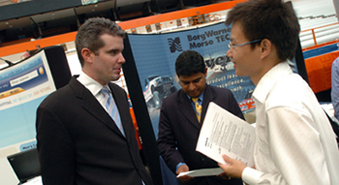 The Local Internship Fair will take place from 11 a.m.-2 p.m. in tents on the Quad. More than 100 local employers will participate, including American Red Cross, City of Syracuse, Crouse Hospital, Galaxy Communications, Time Warner Cable, the Post-Standard and Turning Stone Resort Casino. All interested students are encouraged to attend.
Supporting the University's vision of strengthening ties with the surrounding community, the Local Internship Fair will help students identify and pursue internship opportunities in Central New York. Employers from a wide variety of industries will be represented, seeking interns for the fall, spring and summer semesters.
In its fourth year, the Local Internship Fair has facilitated many successful connections between employers and interns. More than 500 students attended the event last fall. With additional employers participating this year, student attendance is expected to be strong once again.
"Local internships are a great way for students to gain hands-on experience in a work environment while they're studying at SU," says Mike Cahill, director of Career Services. "Internships can even be taken for academic credit in many cases."
About 20 percent of last year's graduating class secured full-time positions as a result of their internships.
"Not only do students develop important skills during their internships, they build professional connections that can later be leveraged during the job search," says Jennifer Pluta, internship coordinator in Career Services. "At a time when networking is critical, doing an internship is yet one more opportunity to expand your network."
Students interested in attending the Local Internship Fair on Sept. 21 are encouraged to view the full list of participating employers on the Career Services website. Suggested attire for the event is business casual. Students should plan to bring copies of their resume to distribute to the employers with whom they speak.
For more information about the Local Internship Fair or to register your organization to participate, contact Pluta at jrpluta@syr.edu or 443-3616.