Campus & Community
SU honors LGBT history in October
Oct. 11 has been nationally celebrated as National Coming Out Day since 1988, chosen to celebrate the anniversary of the National March on Washington for Lesbian and Gay Rights. What was once National Coming Out Day is now celebrated at Syracuse University as Coming Out Month and celebrates lesbian, gay, bisexual, transgender, queer and questioning people, identities and experiences. To honor all those who are LGBTQQ-identified and their allies, the LGBT Resource Center at Syracuse University provides a variety of events to celebrate liberation and solidarity for the SU campus and local community.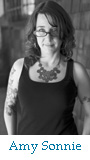 "Our events provide opportunities for everyone to celebrate, learn, engage and connect," says Chase Catalano, director of the LGBT Resource Center.
One of the most highly anticipated events of this year's Coming Out calendar includes the keynote address on Tuesday, Oct. 18, at 7:30 p.m. in Grant Auditorium in the College of Law. Writer, activist, librarian and alumnus Amy Sonnie '98 will present, "How to Get Banned: Queer Activism, Art and the Story Behind 'Revolutionary Voices.'" Sonnie will address her controversial LGBTQ anthology and her personal journey as a social justice activist working on racial and economic justice, feminism, queer politics, media justice and youth rights. The lecture is free and open to the public.
"Amy Sonnie does amazing social justice work," says Catalano. "She graduated from SU in 1998, and I hope she will inspire students to get involved and stay invested."
Other highlights of the month-long programming include a lecture by Sarah Schulman, titled "Solidarity Visit: Israel/Palestine and the Queer International," which is co-presented by Syracuse Symposium and will take place on Monday, Oct. 3, at 7 p.m. in Gifford Auditorium of Huntington Beard Crouse (HBC). Continuing on the theme of LGBTQ global issues is "Private questions, public identities? Being Gay and Jewish in Israel and the USA," on Wednesday, Oct. 5, at 7 p.m. in Gifford Auditorium, HBC (co-sponsored by the Judaic Studies Program and the Foundation for Jewish Culture). The event will screen the film "And thou shalt love," followed by a question-and-answer session with Israeli journalist and LGBT activist Yoav Sivan.
Three favorite SU traditions include "Chalk on the Quad," on Wednesday, Oct. 5; the printing of the sixth annual Out & Ally List in the Daily Orange on Thursday, Oct. 13; and "Coming Out Stories" on Oct. 12. Be sure to grab a newspaper and take a look at all of the out and proud LGBTQ students, faculty, staff, alumni and allies in the SU community.
A full calendar of events is available at http://www.syr.edu/currentstudents/publications/pdfs/comingoutmonth2011.pdf. For more information, contact the LGBT Resource Center at 443-3983 or lgbt@syr.edu.