Campus & Community
Join SU's K-Team for inaugural Empire State Marathon
Syracuse University alumna Kathrine Switzer '68, G'72, a pioneer for social change, has been selected to serve as emcee of the inaugural Empire State Marathon and Half Marathon on Oct. 16 in Syracuse.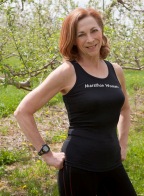 In this spirit, SU K-Team has formed as a way for Empire State Marathon participants to come together. SU students, faculty, staff and alumni who have already registered for the marathon, half marathon or relay are welcome to join SU K-Team and receive a team shirt for the event. Individuals who have not yet registered are also encouraged to join (a 10 percent discount on the marathon entry fee is also available).
To join SU K-Team, email regevent@syr.edu by Sept. 28 with your name, SU affiliation, contact information and T-shirt size.
As an SU student in 1967, Switzer was the first woman to officially run the Boston Marathon, registering as "K. Switzer."
Soon after that, she created the Avon Running Program, a 26-race, 16-country circuit for women's 10K runs and 5K walks. In 1974, she won the New York City Marathon in the Women's Open Division, and her work with Avon in the early 1980s strongly influenced Olympic officials to include the women's marathon event in the 1984 games. She has worked as a broadcast journalist, fitness expert, writer, public speaker and national television sports commentator.
She has received numerous citations and awards for her efforts in advancing sports opportunities for women, including Runner's World Magazine's "Female Runner of the Decade," and being among its "Four Visionaries of the 20th Century." She was inducted into the National Distance Running Hall of Fame in 1998.
During the week of Sept. 30, she will be inducted into the National Women's History Hall of Fame in Seneca Falls, N.Y.
Switzer received her B.A. (dual degree in English and journalism) from The College of Arts and Sciences and S.I. Newhouse School of Public Communications, and her M.A. in public relations from the Newhouse School. She is active in SU's newly founded collegiate chapter of Women in Sports and Events (WISE)—the leading voice and resource for women in the sports and events industry. She also serves on the board of the Department of Sport Management in the David B. Falk College of Sport and Human Dynamics. In 2006, she received SU's highest alumni honor, the George Arents Pioneer Medal. 
For more information on the inaugural Empire State Marathon, visit http://www.empirestatemarathon.com. For more information on SU K-Team, contact the Office of Alumni Relations at 443-3258.