Arts & Culture
Painter Jerome Witkin to give artist's talk Sept. 6
Jerome Witkin, one of America's leading figurative painters and a longtime professor of painting in the College of Visual and Performing Arts' (VPA) Department of Art, will present an artist's talk on Tuesday, Sept. 6, at 6:30 p.m. in Shemin Auditorium in the Dorothea Ilgen Shaffer Art Building. The free, public talk is sponsored by the painting program as part of the Department of Art's Visiting Artist Lecture Series. Parking is available in SU pay lots.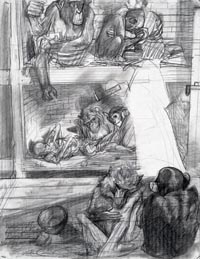 Witkin's talk is held in conjunction with the exhibition "Drawn to Paint: The Art of Jerome Witkin," which will be on view Sept. 8-Oct. 23 at SUArt Galleries on SU's main campus, and Sept. 7-Oct. 16 at VPA's XL Projects, 307-313 S. Clinton St., Syracuse. "Drawn to Paint" consists of 70 works by Witkin, including drawings, paintings and sketchbooks, and marks the first time he has allowed his drawings to be displayed beside their finished works.
Witkin's career as a professor at VPA spans four decades. He has known an enviable number of artists central to the development of 20th-century American painting, and he has studied the history of art with great care. Witkin brings all of this knowledge of drawing, painting and history to bear in the classroom studio, where he encourages and critiques his students. "Drawn to Paint" celebrates his career as an artist-teacher, a dual role in which he has excelled.
For more information about the lecture, contact Stephen Zaima, professor of painting, at szaima@syr.edu. For more information about "Drawn to Paint," visit http://suart.syr.edu.